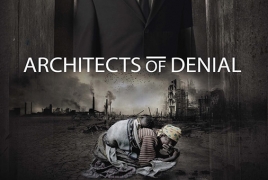 April 27, 2017 - 15:51 AMT
PanARMENIAN.Net - Former Superman Dean Cain is taking on a much more serious subject than most men in tights these days. The actor has produced a new film,

"Architects of Denial"

, which delves into the Armenian Genocide and the denial by the Turkish government and other authoritative bodies that atrocities ever took place, PopZette reports.
The trailer for the movie is now available on YouTube.
"Armenians have been persecuted for centuries. It's unreal," Cain told "Fox & Friends" recently when discussing his upcoming project. "They were the first bastion of Christianity. They were the first country to, I think, recognize Christianity, and they are the only bastion of Christianity in the Middle East."
It was during and after World War I that the Ottoman Empire carried out the Genocide that claimed the lives of 1.5 million Armenian citizens, including women and children. To this day, the Armenian people are persecuted in the Middle East for their beliefs — and many are kept from their true home.
Turkey, which was the successor state to the Ottoman Empire, denies using the word genocide to describe the historical deaths of Armenians.
"Turkey has gone around the world aggressively lobbying to make sure there are no references to the Armenian genocide," said Wikileaks Editor-in-Chief Julian Assange in the recently released trailer for "Architects of Denial."
The trailer shows camera crews confronting two Democratic members of Congress, Rep. Eddie Bernice Johnson of Texas and Rep. Steve Cohen of Tennessee.
"Do you deny that the Armenian genocide happened?" asks one of the filmmakers of Rep. Johnson — to which she replies, "I do deny that."
The Armenian Genocide (1915-23) was the deliberate and systematic destruction of the Armenian population of the Ottoman Empire during and just after World War I. It was characterized by massacres and deportations, involving forced marches under conditions designed to lead to the death of the deportees, with the total number of deaths reaching 1.5 million.

The majority of Armenian Diaspora communities were formed by the Genocide survivors.

Present-day Turkey denies the fact of the Armenian Genocide, justifying the atrocities as "deportation to secure Armenians". Only a few Turkish intellectuals, including Nobel Prize winner Orhan Pamuk and scholar Taner Akcam, speak openly about the necessity to recognize this crime against humanity.

The Armenian Genocide was recognized by Uruguay, Russia, France, Lithuania, Italy, 45 U.S. states, Greece, Cyprus, Lebanon, Argentina, Belgium, Austria, Wales, Switzerland, Canada, Poland, Venezuela, Chile, Bolivia, the Vatican, Luxembourg, Brazil, Germany, the Netherlands, Paraguay, Sweden, Venezuela, Slovakia, Syria, Vatican, as well as the European Parliament and the World Council of Churches.
"Architects of Denial" trailer features Julian Assange
Genocide DENIED…is Genocide CONTINUED
Architects of Denial

is a first person account of genocide through the eyes of its survivors.
We need YOUR help to spread the word



The PromiseFanPage

‏

@ThePromiseFanPg



Keep filling the theaters and thankful for everyone attending. #ArmenianGenocide #KeepThePromise @thepromisefilm

pic.twitter.com/yLBrFz8vN3