5/7/17 #904
http://www.conspiracyjournal.com
Subscribe for free at our subscription page:
http://www.members.tripod.com/uforeview/subscribe.html
You can view this newsletter online at:
http://uforeview.tripod.com/conspiracyjournal905.html
SHHHH - Be Vewy, Vewy qwiet! We's hunting CONSPIRACIES! Yes that's right! Watch out secret government cabals! Look over your shoulders Men-In-Black! Check your altitude variance you silly flying saucer folks! Because once again Conspiracy Journal is here to rip off the veils of intrigue and secrecy from those dedicated to keeping mankind in the dark.
This week Conspiracy Journal takes a look at such clavicle-breaking stories as:
-
California Top in UFO Reports Since 2001
-
-
"Flying Triangle" UFOs & U.K.-U.S. Liaison
-
-
Shroud of Turin Image May Have Coins Over its Eyes
-
AND:
NY Governor's Mansion May Be Haunted
All these exciting stories and

MORE

in this week's issue of


CONSPIRACY JOURNAL!



~ And Now, On With The Show! ~
---
The Secret Exploits of Adm. Richard Byrd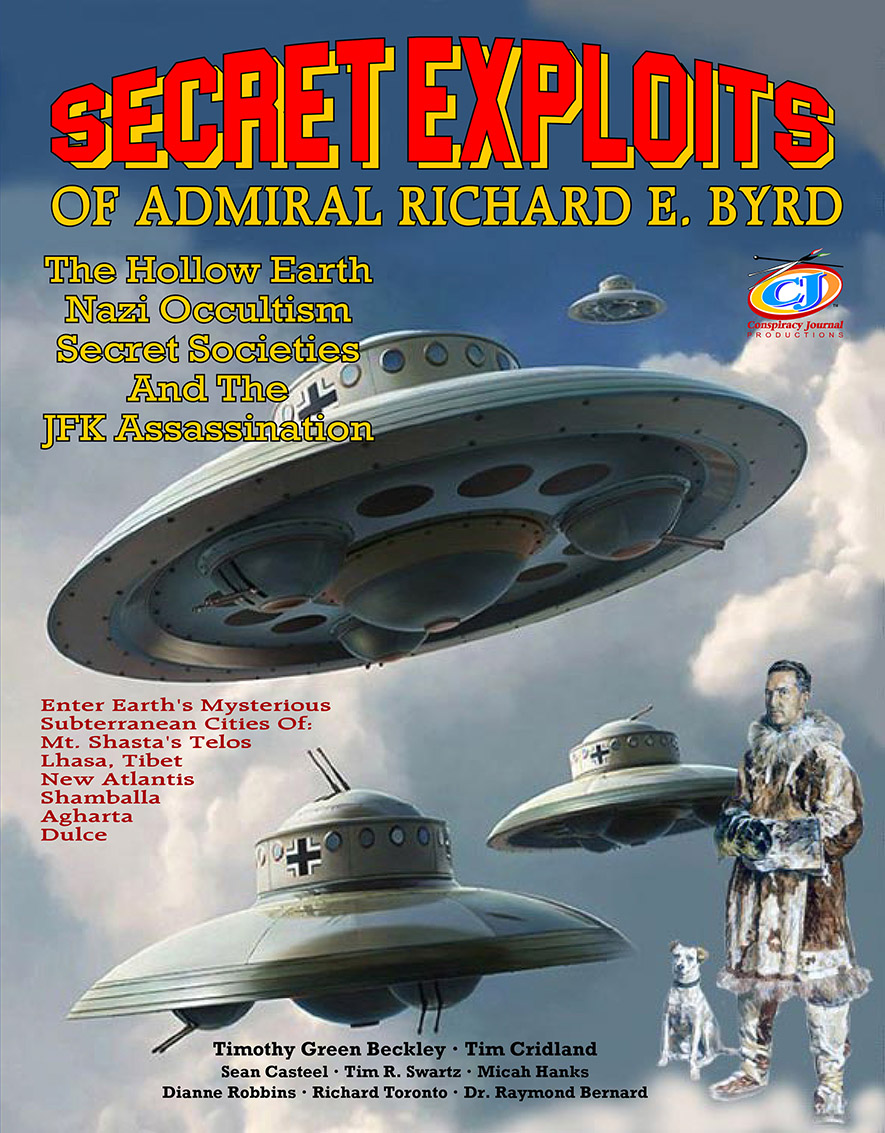 GOES WELL BEYOND HIS PREVIOUSLY PUBLISHED "PERSONAL DIARY" . . . WHAT WAS ADMIRAL RICHARD E. BYRD'S ULTIMATE INVOLVEMENT WITH THE ASSASSINATION OF PRESIDENT JOHN F. KENNEDY?

IS IT POSSIBLY CONNECTED WITH HIS AMAZING DISCOVERY OF A VAST ICE FREE "PARADISE" AT THE SOUTH POLE?
Several years ago a mysterious manuscript said to be Admiral Richard E. Byrd's Private Log or Diary emerged. In it Byrd wrote about a vast ice-free "paradise" beyond the Poles: "We are crossing over the small mountain range and still proceeding northward as best as can be ascertained. Beyond the mountain range is what appears to be a valley with a small river or stream running through the center portion. There should be no green valley below! Something is definitely wrong and abnormal here! We should be over ice and snow! To the portside are great forests growing on the mountain slopes. Our navigation instruments are still spinning, the gyroscope is oscillating back and forth!"

During his career as an explorer, up until his death in March 1957, Byrd was considered a national hero. Besides exploring both Poles, it is alleged that the veteran Navy commander had come upon an entrance way that led into a Hollow Earth inhabited by a race of giants.

Rumor also has it that Byrd, during his 1947 expedition, was confronted by a "lost" battalion of Nazis whose settlement was being guarded by a fleet of back-engineered "Flying Saucers." And while Byrd's scientific team was supposed to stay for six months in this frozen region, his expedition was called off shortly after his arrival.

What is generally not known is that on one of Byrd's sojourns to Antarctica, he sought to stave off mutiny from among his crew by enlisting some of the younger members into a very secretive "Loyal Legion," which enabled him to clamp down on any leaks about his missions and discoveries.

And while the content of Byrd's "secret diary" is open to debate, researcher and author Tim Cridland searches deeply into the many shadowy unknowns surrounding Byrd and the Nazis as well as a previously undisclosed wrinkle: a closely guarded connection between JFK's assassination and the iron grip of those determined to keep the secrets surrounding UFOs and the arrival of ultra-terrestrials locked away from public scrutiny forever. This conspiracy involved members of a sinister, secret group of wealthy and "well-connected" individuals that included Lyndon Johnson, John Connelly and at least one member of Byrd's family among its ranks.

This book takes a wholly original approach to a great many areas of interest revolving around the concept that our Earth is "hollow" and that a vast cavern system, constructed eons ago, exists connecting various subterranean cities with their hidden gateways back up to the surface world. Some researchers believe that the Inner Earth houses a potential "Garden of Eden-like" utopia, while others espouse the idea that much of the planet's caverns and hollows are overrun by monstrous inhabitants wreaking havoc on the surface while serving to entice evil machinations from above ground conspirators who are loyal only to their self-serving dream of world conquest and domination.

The "Secret Exploits Of Admiral Richard E. Byrd" is a valuable inquiry made by a variety of independent researchers into a subject that has long been one of "instant ridicule" without being given its day in court. Here the reader will get to visit the various ancient cities of the subterranean world as well as learn about the "denizens of the deep" and their future design on unsuspecting surface dwellers who know little – or absolutely nothing – of their existence.
This Newly Released Book is Now Available for the
Bargain Price of Only

$17.50
So don't delay, order your copy of

Amityville And Beyond
today for only

$17.50 plus $5.00

for shipping -

A GREAT PRICE!
Click Here to Order With PayPal


You can also phone in your credit card orders to Global Communications
24-hour hotline:

732-602-3407



And as always you can send a check or money order to:
Timothy Green Beckley
P.O. Box 753
New Brunswick, NJ 08903



Please make out checks to: Timothy Green Beckley
---
Exploring the Bizarre - Thursday Nights at 10:00PM EST
Heard Live on the KCOR Digital Radio Network
---
- I KNOW WHAT I SAW DEPARTMENT -
California Top in UFO Reports Since 2001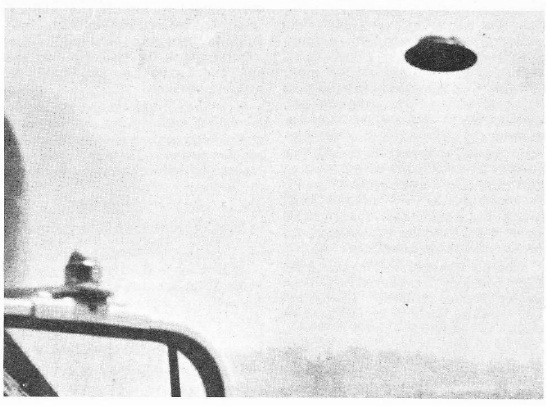 "UFO Sightings Desk Reference," a new book on reported UFO sightings, found that California had the most reports of visual encounters with unidentified objects in the United States. This includes hundreds of reported sightings, CBS San Francisco reports.

The book analyzed more than 120,000 reports of UFOs and found more Californians believed they'd come in contact with extraterrestrial life than anyone else in the country.

"We found that UFOs were sighted in every county in the United States. Every county had at least one sighting sometime in the past 15 years," the book's co-author, Cheryl Costa, explained.

Using data from the Mutual UFO Network, or MUFON, and the National UFO Reporting Center, she said Californians reported seeing nearly 16,000 UFOs between 2001 and 2015.

"We think a great deal of it has to do with California's weather," Costa said.

Costa explained that California's mild weather allows people to be outdoors during much of the year and thus in position to spot possible UFOs.

According to Costa, Santa Clara County topped the list in Northern California with 569 reported sightings. Alameda County was second with 518, while San Francisco trailed with 327.

It should be noted that these reports are anecdotal and haven't been investigated, let alone proven.

But for those who believe we're not alone in the universe, the book may seem validating.

"Most people were very sincere about what they reported, about what they think they saw, Costa added. "They weren't jerking us around. But we understand the only proof some people are going to accept is a space ship cracked up in the mall parking lot."

Check out our interview with Cheryl Costa on
Exploring the Bizarre.
Source

: CBS News
http://www.cbsnews.com/news/californians-reported-the-most-ufo-sightings
-since-2001/
---
- SECRET BLACK PROJECTS DEPARTMENT -
"Flying Triangle" UFOs & U.K.-U.S. Liaison
By Nick Redfern
Since the 1980s, sightings of large, triangular-shaped UFOs have been reported throughout the world. They are usually described as being black in color, making a low humming noise, and very often with rounded – rather than angled – corners. The sheer proliferation of such reports has led some ufological commentators to strongly suspect that the Flying Triangles (as they have come to be known) are prime examples of still-classified aircraft, the development of which was secretly begun in the 1980s by elements of the U.S. Department of Defense. Others take the view that the FTs have extraterrestrial origins.

In March 1993 a series of Flying Triangle encounters occurred in British airspace that went on to have a profound effect on high-ranking sources within both the Royal Air Force and the Ministry of Defense. More importantly, it was that single wave of encounters that ultimately led the Ministry of Defense to liaise with their American counterparts to try and determine, once and for all, what the FTs really are. The story comes from one of those at the forefront of the study into the aforementioned sightings: Nick Pope, who, for three years (1991-1994), investigated UFO incidents for the Ministry of Defense.

While much has been written about the March 1993 cases (which some researchers believe were evidence of a real, unidentified phenomenon and others conclude was nothing more than a storm in a teacup), far less has been written about the U.S.-U.K. liaisons on the issues concerning the FTs. In the wake of the March 1993 FT wave, Nick Pope told me: "We decided that we couldn't ignore the various rumors that were doing the rounds about a supposed Top Secret aircraft developed by the U.S. Government and called Aurora – or, indeed, any hypersonic and/or prototype aircraft operated by the Americans.

"There had been persistent rumors in the aviation world and among the UFO lobby that the SR71 Blackbird had been replaced by a hypersonic aircraft code-named Aurora and that that was what the Flying Triangles really were. I was well aware that there had been some interesting stories about visual and radar sightings around certain air bases; however, I hadn't put much store in these rumors – not least because there had been some very definitive denials from the Americans.

"I know there's a lot of cynicism about government and the military. And although officialdom may refuse to answer a question and may sometimes give a misleading answer, outright lying is incredibly rare.

[What utter twaddle, Mr. Pope. Towing the "government line" yet again, we see. You speak with forked tongue! We know you aren't allowed to tell the truth!..ed.].

And when it does occur, if it's uncovered it almost certainly leads to resignation. But with the March 1993 sightings – and in spite of the denials from the Americans that they were responsible for the Flying Triangles – we did contact them to make inquiries. This was because they have the responsibility pertaining to the U.S. presence in Britain. Those inquiries bore absolutely no fruit at all. The Americans said: 'No. We can shed no light at all on the UFO sightings that have led to your inquiry.'"

Pope was able to disclose, however, that the liaison with the Americans was not without its moment of intrigue. "If anything," he explained to me, "there was an interesting little hint that the Americans, too, were seeing these Flying Triangles over their territory. As we were making our inquiries, they turned the question around and wanted to know if our Royal Air Force had a triangular-shaped, hypersonic prototype aircraft of some sort. So, presumably, the Americans were having Flying Triangle sightings, too.

"But this was interesting, in light of the fact that the Americans supposedly got out of UFO investigations back in 1969 when the Air Force's Project Blue Book closed down. Of course, you may not officially be in the UFO game, but you are certainly going to be aware of – and take an interest in – reports of structured craft in your airspace. So, essentially, we drew blanks with the Americans."

Pope adds: "Bearing in mind that the Americans had inquired – at an official level, no less – if the British Royal Air Force had in its employ something broadly fitting the description of a Flying Triangle, and we had said 'No,' I still felt obliged to address the issue of whether or not the rumors about secret aircraft being flown by us were true. First, from my own knowledge of prototype aircraft, unmanned aerial vehicles and so on, the Triangles don't fit into the typical pattern, and I'll explain why. Where we do have such pieces of kit, they're not tested over the heads of 'Joe Public;' they're tested in a small number of clearly defined ranges and danger areas – mostly out at sea such as the Aberporth Range in Cardigan Bay."

[rubbish!...ed.].



Pope also states on this highly-controversial matter: "

You simply do not fly a prototype craft over a military base or wherever, and run the risk that someone will either (a) scramble a [Tornado] F-3 [aircraft] to try and intercept it; or (b) take a photograph of it which will end up on the front page of The Sun or Jane's Defense Weekly. It's simply not the way that things are done.

[more misleading twaddle from a "government man". N.B.: Mr. Pope has had to sign the UK Official Secrets Act and is therefore never allowed to tell the truth - ever - lest he be locked away, having lost his pension too...ed.].

We checked domestically anything that might have been flying. But if we'd have been poking our noses into something that didn't concern us, the investigation would have been quietly switched off. In fact, the opposite happened. We were making big waves throughout the Royal Air Force, the Ministry of Defense and at an international level."

Pope's final word on the matter to me:

"So, the domestic secret aircraft theory is interesting but it doesn't hold water."

[even more shameful nonsense!...ed.].
Source

: Mysterious Universe
http://mysteriousuniverse.org/2017/05/flying-triangle-ufos-u-k-u-s-liaison/
---
Order using PayPal and we will extend a ten percent discount for anything ordered from Conspiracy Journal #47.

Email
mrufo8@hotmail.com
and tell Tim Beckley what it is you wish to order and he will send you back a PayPal invoice which you can pay immediately. Safe and secure and faster than waiting for us to get your order in the mail or charge it over the phone by credit card (which we can do by your leaving a message at 732 602-3407 - by dropping us a line at the same e mail).
---
---
- SPOOKY POLITICS DEPARTMENT -
NY Governor's Mansion May Be Haunted
By Kirstan Conley and Max Jaeger
If the pressure of running New York State doesn't keep Gov. Andrew Cuomo up at night, things that go bump in the night do.

New York's governor's mansion is believed by many to be haunted — including former Gov. David Paterson — and Cuomo says spooky noises are keeping him sleep deprived when he's upstate.

"So, it's me alone, when I'm in the house because my family is in Westchester … and there are stories that this house is haunted," Cuomo said Thursday. "Now, I don't believe in ghosts, and I'm a big, tough Italian guy, but I'll tell you, it gets creepy in that house, and there are a lot of noises that go on and you are very alone."

Paterson told The Post that the 161-year-old Italianate mansion is, beyond the specter of doubt, haunted.

"Yes to be honest with you," Paterson said when asked if there is a ghost.

He even went on a phantom-hunting expedition late one night while governor.

Paterson was in a second-floor bedroom when heard a sound like a vase smashing, he said. He searched two floors of the building but never found the source of the mysterious noise. The next day, house staff told him he had a run-in with the home's oldest resident.

"I told the staff, and they all got quiet and left the room," he said. "One came to me and said, 'Governor, nobody wanted to say this to you, but it's the ghost.' One employee is afraid to clean one of the rooms because she thinks the ghost is in the room."

Staff believe it's the spirit of a groundskeeper who served the mansion's original owners before the state bought the building in 1877, meaning nearly every governor since Samuel Tilden — including Cuomo's dad Mario — lived in a haunted house while governing New York, according to Paterson.

While Paterson was living there, his 5-year-old nephew revealed that he could feel an invisible hand guiding him when he climbed the mansion's stairs, leading Paterson to believe the spirit is benevolent.

"Governor Cuomo should be relieved," the former governor said. "It's a friendly ghost, like Casper."

The mansion is not the capital's only haunt for the undead. The State Capitol building is believed to be infested with the supernatural, and the state even offers spooky tours there.



Source

: NY Post
http://nypost.com/2017/05/04/creepy-noises-in-the-governors-mansion-are
-
spooking-cuomo/
---
Sign up today for Bizarre Bazaar and Conspiracy Journal Magazines

Click on banner to sign up for two FREE magazines!
---
FRIENDS OF CONSPIRACY JOURNAL
PSN-Radio YouTube Channel
. Watch all your favorite webcasts
such as The Outer Edge.
---

Far Out Radio
---
Restricted Airspace
with Tina Maria Caouette Friday's at 7:00PM PST
On KCOR Digital Radio Network
---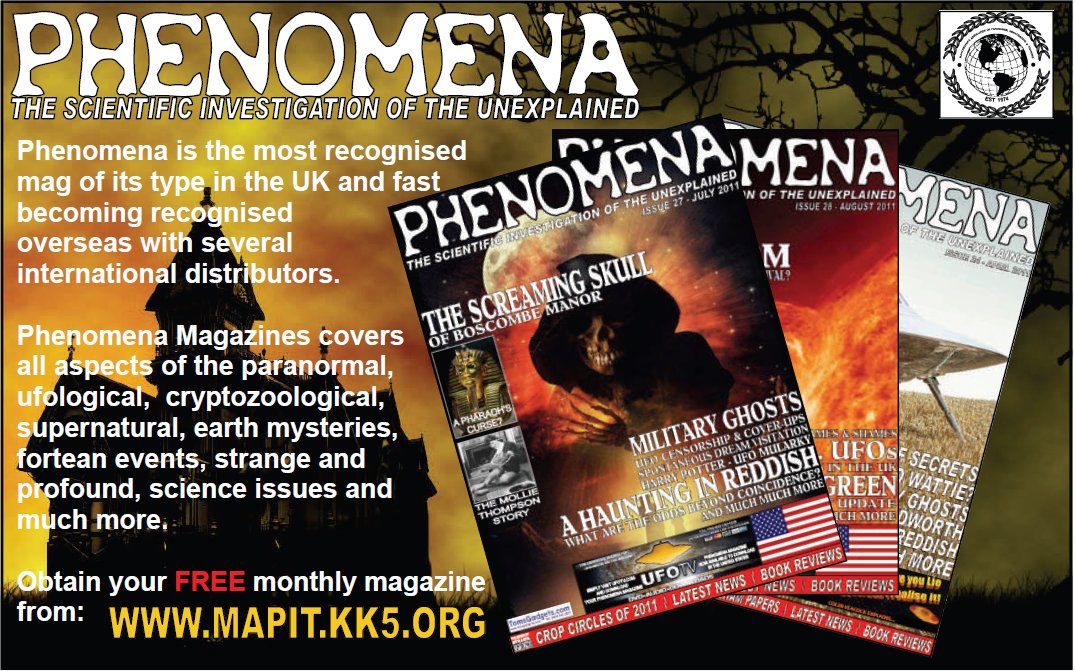 Free Issue of Phenomena Magazine
www.mapit.kk5.org
---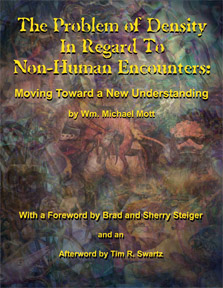 Wm Michael Mott - New Book Available on Kindle
---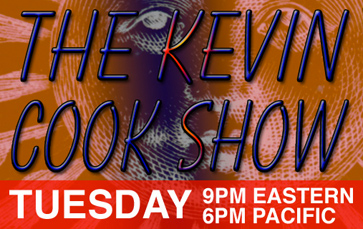 The Kevin Cook Show
on Inception Radio Network
---
---

Cosmic Horizons - Thursday at 8:00pm Eastern
www.blogtalkradio.com
---
The Paracast
Sunday, 3:00 AM–6:00 AM Eastern Time on GCN Radio

---