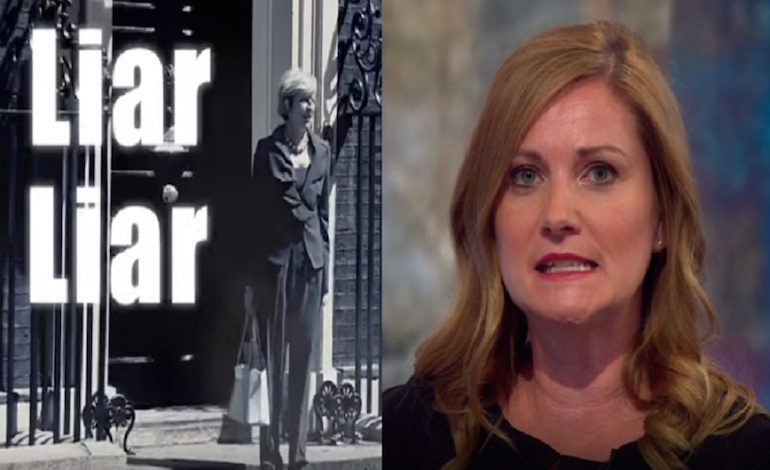 The artist behind the anti-Tory 'Liar Liar' song just exposed shocking BBC bias, live on air [VIDEO]
UK
The artist behind the hit anti-Tory single

Liar Liar

GE2017 has told The Canary that the BBC told him "not to go too heavy on the Tories" and "not to mention" a planned demonstration before he went on the Victoria Derbyshire show. The founder of group Captain SKA left the show's presenter floundering, as he dropped a truth bomb about the broadcaster's apparent bias live on air.
Bias. Blown open
On Friday 2 June, Jake Painter was being
interviewed
about the group's song on Victoria Derbyshire. Host Chloe Tilley was discussing the reasons why broadcasters had refused to play Liar Liar GE2017. And then, Painter suddenly exposed something the BBC probably hoped would remain quiet:
He
said
:
Before I came on, your editor asked me not to go too heavy on the Tories.
Tilley immediately
responded
:
To be fair, that once again falls into what Kevin is saying because, you know, if we're going to have someone on here who does an anti-Labour song, and an anti-Lib Dem song, an anti-Green song, an anti-UKIP song, d'you see what I mean? It's all about that impartiality.
Please be nice to the Tories!
Painter told The Canary:
A BBC editor asked me 'not to go too hard on the Tories', as they had to be balanced on the show. And they also said I was not to mention our Radio 1 protest that's happening today, 'for health and safety reasons'. I found it hard to get a word in during the show. But I'm glad I got my points across.
The protest Painter refers to is one
organised
by the People's Assembly. It was due to take place outside Broadcasting House in London on Friday 2 June. The group had organised a protest/party over the BBC's refusal to play Liar Liar GE2017. But as Painter pointed out on Victoria Derbyshire, there is a deeper problem with media bias at play.
Not just the BBC
He
told [1.39.30]
host Tilley that he was "horrified" that broadcasters hadn't played Liar Liar GE2017. But he thought there was a reason for this:
When you look at the bias in the media, not just the BBC but wider media in general… towards the Tory Party, there's been so many studies on this, LSE, Cardiff University, Birkbeck, [the media is] massively weighted…[to] Tory policies…
Painter and Captain SKA are going to be circumventing the mainstream media to get Liar Liar GE2017 out there. On Wednesday 7 June, they'll be playing at Brixton Jamm in South London. The 10-piece act will "be playing a set packed with dance floor filling protest tunes to keep you thinking and dancing your way to the election". You can find out more
here
.
Rabid bias
And Painter is right. One such
study
by the London School of Economics (LSE) claimed the press turned into an "attack dog" against Corbyn. It said 57% of articles in the press were critical of Corbyn, 74% distorted his views, and 56% did not give the Labour leader a voice at all.
Also, a study by the The New Statesman appears to confirm this bias. It did
analysis
into the broadcasting of the EU referendum campaign by looking at the main evening bulletins on Channel 5 (5pm), Channel 4 (7pm), and BBC, ITV, and Sky News (10pm). It found that
71.2%
of the media's political sources were from the Conservative Party. This compared to just 18.4% from Labour.
And if this wasn't bad enough, Reporters Without Borders recently
said
the UK has now slipped to 40th in its Press Freedom Index.
A universal problem?
Broadcasters do have set impartiality rules during election periods. But the BBC especially also has a duty to us, as a public service broadcaster; although credit should be given to Victoria Derbyshire for at least playing a segment of Liar Liar GE2017. The media's refusal to play the song, whatever their reasons, will only serve to compound the impression in much of the public's minds that our press, far from being free and fearless, is little more than an organ of the Conservative Party machinery.
Get Involved!
– Get out there and vote on 8 June. And encourage others to do the same.
– Discuss the key policy issues with family members, colleagues and neighbours. And organise! Join (and participate in the activities of) a union, an activist group, and/or a political party.
– Also
read
more Canary articles on the 2017 general election.
Download
Liar Liar GE2017 and get
tickets
to Captain SKA's gig on 7 June.
–
Support
The Canary if you value the work we do.
Featured image via screengrab/
screengrab
Become a Canary member to support fearless independent journalism

Read more in our recommended book:
from earlier:
UK: Theresa May protest song 'LIAR LIAR' hits No 1 on iTunes VIDEO
By
Ian Greenhalgh
on May 31, 2017
A song describing Prime Minister Theresa May as a "liar" and calling the country "broken" has become the most downloaded on iTunes.
Captain Ska's song, which calls the PM a "liar", has been banned by radio stations despite reaching No 1 on iTunes.
Although Captain Ska's anti-Tory song Liar Liar is proving popular among downloads, it is unlikely to be playing on a radio near you any time soon.
Liar Liar is set be the highest new entry on the UK Official Singles Chart this week, but impartiality rules during the election period mean it is unlikely to get radio air time, regardless of chart position.
The Big Top 40 show on Heart and Capital FM has banned the song from being played.
The song samples clips of Tory speeches and has the chorus "She's a liar liar, you can't trust her, no, no, no".
Another lyric talks about the NHS, saying: "When there's nurses going hungry and schools in decline, I don't recognise this broken country of mine."
Other lyrics by the London-based ska band focus on poverty levels, schools and police cuts.
The seven-piece group is made up of session musicians who have performed with Vampire Weekend, Paloma Faith and The Streets.
Describing their music as "new wave political", the band said: "The success of this song shows people are fed up with this government of the rich, for the rich.
"We're overwhelmed with the support and our message is that people do have the power to change society if we act together."
All proceeds raised from the song between now and election day will be split between food banks and campaign group The People's Assembly Against Austerity.
The song was released on Friday, but an earlier version of the song released in 2010 in response to the coalition government reached number 1 in the UK reggae chart and number 89 in the official charts.
Related Posts:
source:
http://www.veteranstoday.com/2017/05/31/uk-theresa-may-protest-song-liar-liar-hits-no-1-on-itunes/