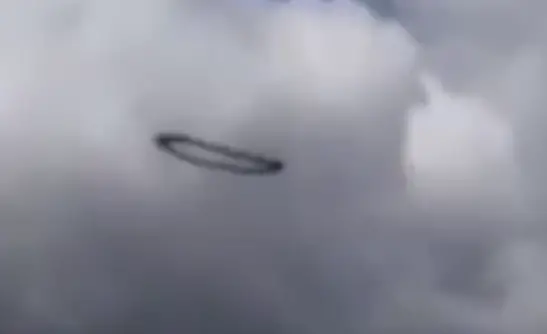 A black UFO that flew in the skies over Dalian, China has amazed crowds enjoying the Jinshitan beach. A video recording was uploaded online showing a strange object over the beach in the city. It depicts an unknown floating object among clouds.
The unusual thing moves in the sky over the swimmers and beachgoers as they observe it flies over them.
One of the witnesses Jing Qi says that an oval shape UFO appears in the sky and expands at it comes closer to the crowd.
The ring UFO appears to change shape into a parallelogram before disappearing.
Social media users who saw the video online speculate on the possible origin of the bizarre object on Weibo.
Some say the ring could have been a group of insects flying together and forming such shape. Others say that it could have been special visual effects from a show organised for the public.
However
,
some other viewers of the video suggest that extraterrestrials have something to do with the UFO.
Most viewed this week
source:
http://www.latest-ufo-sightings.net/2017/08/ring-ufo-flies-beachgoers-swimmers-china.html