By
Mary-Ann Russon
WikiLeaks founder Julian Assange has claimed that a woman he is alleged to have raped sent text messages admitting that he never assaulted her.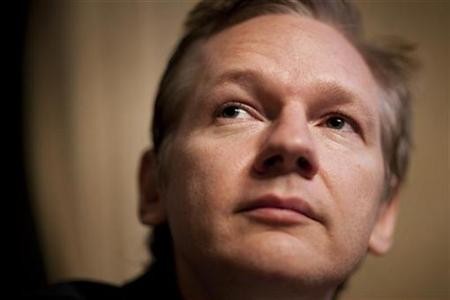 In an
affidavit
published on the

WikiLeaks

website, Assange cites several SMS messages supposedly exchanged between his two alleged victims.The affidavit quotes one woman's text message as saying "it was the police who made up the charges". The alleged victim "did not want to put any charges on JA but that the police were keen on getting a grip on him", the affidavit continues.
The victim also allegedly texted that she was "chocked [sic] when they arrested JA because she only wanted him to take a [STD] test".
Assange claimed the messages were sent between 20 and 21 August 2010, and that he received paraphrased versions from his lawyers in December 2011. His lawyers have since been denied access to a full copy of the victims' phone records.
The affidavit also links to a screenshot of a Twitter post, written in Swedish, that one of the women posted in April 2013, stating that she had not been raped. The tweet has been deleted.
Assange, the founder of the whistleblower website, has been living in the
Ecuadorian embassy
in London since June 2012 after claiming diplomatic asylum to avoid being extradited to Sweden, where he faces allegations of rape and sexual assault by two WikiLeaks volunteers.
Assange states in the affidavit that he left the UK for Sweden on 11 August 2010 because he feared for his safety in the UK and had decided to manage his WikiLeaks interests from Scandinavia.
Nine days later, the two women (identified as AA and SW in documents filed to the UK Supreme Court) went to the police. One of the women wanted Assange tested for sexually transmitted diseases.
The duty prosecutor Maria Kjellstrand ordered his arrest on the same day.
Assange claims in the affidavit that he stayed on in Sweden to clear his name but on a trip to Berlin a month later his suitcase containing three encrypted laptops and other information was "seized unlawfully" by the Swedish or German authorities.
Assange claims that, while in Sweden, he had begun to suspect that the US was working with the Swedish government.
"I file this affidavit in the knowledge that there will likely be pressure for this matter not to be investigated, but in the knowledge that the law requires an investigation," Assange writes in his court filing.
"I request that Swedish judicial authorities act swiftly to question and arrest if necessary those who are likely to have information about or bear criminal responsibility for the actions taken against WikiLeaks and my person as detailed in this affidavit."
source:
http://www.ibtimes.co.uk/julian-assange-affidavit-states-rape-victim-sent-texts-denying-attack-1434895
----------------------------------------------------------------------
See more

:
"Mr Assange details notes taken by his lawyers at a Swedish police station after they were allowed to read text messages sent between SW and AA — the two women who made allegations against the WikiLeaks founder.
According to Mr Assange's statement the text messages included the following:
On 17 August, SW wrote "JA did not want to use a condom".

On 20 August, while at the police station, SW wrote that she "did not want to put any charges on Julian Assange" but that "the police were keen on getting their hands on him".
According to the statement she was

"chocked (sic shocked) when they arrested him" because she "only wanted him to take [an STD test]".

On 21 August, SW wrote that she "

did not want to accuse"

Julian Assange "

for anything

" and that it was the "

police who made up the charges

(sic)"

On 23 August, SW wrote that it was the police, not herself, who started the whole thing.

On 26 August, AA wrote that they ought to sell their stories for money to a newspaper."
source
:
Julian Assange says texts show he is 'entirely innocent' of rape; WikiLeaks founder criticises Swedish prosecutor - 07 Dec. 2016
http://www.abc.net.au/news/2016-12-07/julian-assange-goes-public-on-rape-allegations/8099276
----------------------------------------------------------------------------------------------------------------------
WikiLeaks Founder Julian Assange Denies Rape in Detailed Account of Encounter

On 28 August, AA wrote that they had a contact on the biggest Swedish tabloid and SW wrote that their lawyer negotiated with the tabloid.
Credit

Peter Nicholls/Reuters
LONDON —
Julian Assange
, the
WikiLeaks
founder, offered his most detailed and public account on Wednesday of events that led to a rape accusation against him in
Sweden
, saying he was innocent and had engaged in "consensual and enjoyable sex" with the accuser.
Last month, questions prepared by Swedish prosecutors were posed to Mr. Assange at the Ecuadorean Embassy, where he has lived since 2012 to avoid extradition to Sweden over the rape accusation. The questions were asked by an Ecuadorean prosecutor under an agreement made by the two countries in August.
But in a move that is likely to irk Swedish prosecutors, whom Mr. Assange has denounced for forcing him to remain confined in the embassy for the past six years, the
WikiLeaks
founder on Wednesday released the answers he gave during the interview.
In the 19-page statement
, which reads alternately like a legal defense brief and an emotional airing of personal grievances, he writes that he is "entirely innocent" and had engaged in "consensual and enjoyable" sex with the woman who accused him of rape.
Karin Rosander, a spokeswoman for the Swedish Prosecution Authority, said Wednesday that the authority was still waiting for a written report on Mr. Assange's questioning from the Ecuadorean prosecutor.
WikiLeaks has courted controversy by publishing confidential and damaging information from the United States and other countries. During the American presidential election, WikiLeaks came under renewed scrutiny for distributing
hacked emails
from the Democratic National Committee, and Mr. Assange
acknowledged
that he was timing their release to do maximum harm to the prospects of Hillary Clinton.
Mr. Assange, 45, an Australian, has refused to go to Sweden to face the rape accusation for fear, he says, of being extradited to the United States and being jailed for life, even though the Swedish authorities have sought to allay such concerns. No formal charges have been filed against him.

In the statement detailing his account of his relationship with his accuser, referred to as "SW," whom he met in August 2010, Mr. Assange railed against the Swedish authorities, saying that he had been forced to endure "six years of unlawful, politicized detention without charge."
He said that, as a result of the American government's aggressive stance toward WikiLeaks, his bank cards were blocked after he arrived in Sweden in 2010, forcing him to depend on the hospitality of others.
During his trip, he said, he met a woman, who "made it very clear that she wanted to have sexual intercourse with me." After having sex several times that night and the next morning, he says they parted amicably. But several days later she called to say that she was at a hospital and asked him to meet her there to be tested for sexually transmitted diseases.
Because he was busy dealing with "escalating political and legal threats" from the Pentagon, he said, he agreed to meet her the next day in a nearby park at lunchtime. "You can imagine my disbelief," he told investigators, "when I woke the next morning to the news that I had been arrested in my absence for 'rape' and that the police were 'hunting' all over Stockholm for me."
"I immediately made myself available to Swedish authorities to clarify any questions that might exist, even though I had no obligation to do so," he said.
In the interview, Mr. Assange criticized the Swedish authorities, saying that despite the fact that the chief prosecutor of Stockholm, Eva Finne, had closed her investigation and said that no crime had been committed, another Swedish prosecutor had reopened an investigation and issued an extradition warrant for his arrest.
Citing a determination by the United Nations Working Group on Arbitrary Detention that the Swedish and British governments had "arbitrarily detained" him since 2010, Mr. Assange said that he had been denied due process and had endured "cruel, inhumane and degrading treatment."
In August 2015, prosecutors dropped their investigation into two possible charges — one of unlawful coercion, another of sexual molestation — after running out of time to question Mr. Assange. But he still faces the more serious accusation of rape.
| | |
| --- | --- |
| 06/09/17 | Today's most popular stories on your favorite topics |