Figures released on Thursday 14 December show the homelessness crisis in the UK is spiralling further out of control. They come just a day after Theresa May effectively lied about the situation under her government. And the new statistics prove the crisis is getting worse under her watch.
'Misleading' figures
At Prime Minister's Questions (PMQs) on Wednesday 13 December, May said [12:13:49] that:
Statutory homelessness peaked under the Labour government and is down by over 50% since then. It's this government that is delivering for people on housing.
Although as The Canary previously reported, May:
used inaccurate and 'misleading' figures about homelessness. And because the government was ordered not to use these figures by the UK Statistics Authority, May knew that they were not accurate. In other words, she knowingly misled parliament; or lied.
But now, the latest figures on statutory homelessness that May claimed showed her government was "delivering" on housing prove her completely wrong.
The truth
Figures from the Department for Communities and Local Government (DCLG) show that [pdf, p1]:
Between 1 July and 30 September 2017, there were 15,290 statutorily homeless households, up 2% from 14,930 on the same quarter of last year.

On 30 September 2017, the number of households in temporary accommodation was 79,190, up 6% from 74,750 at the same date last year, and up 65% on the low of 48,010 on 31 December 2010.
So while May was correct that statutory homelessness peaked under Labour, it also fell [pdf] under its watch and then began rising again as soon as the Coalition government came to power in 2010: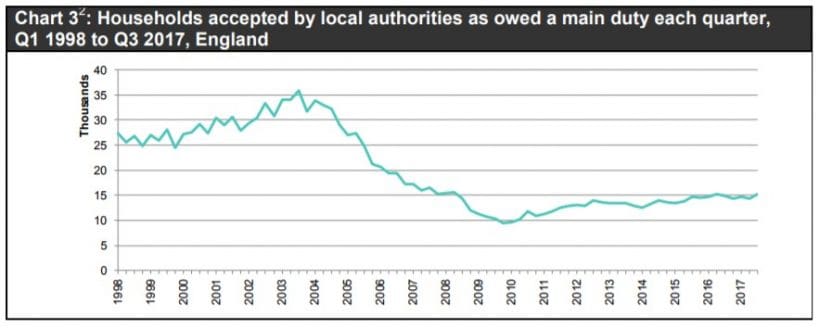 And the DCLG is clear as to the reason for the increase. In 28% of cases, it was due to the end of Assured Shorthold Tenancies (AST) with private rental landlords [pdf, p7-8]: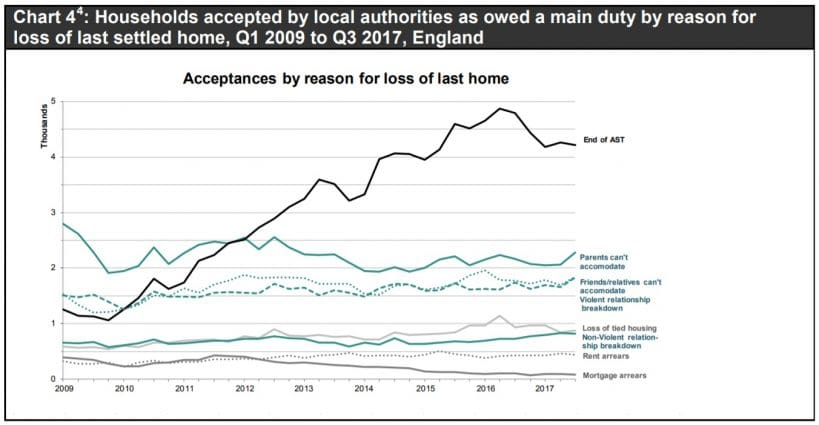 As The Guardian noted in 2016:
The end of an AST has rapidly become the single biggest cause of homelessness in recent years, triggered by spiralling rent rises and cuts to housing benefit support. In 2010 just 11% of homeless acceptances in England were caused by the end of an AST.
Disgraceful
As Jeremy Corbyn tweeted after PMQs:
But with her government failing thousands of families so badly, it is little wonder she felt the need to lie at PMQs to cover her party's disgraceful tracks.
Get Involved!
– Support Streets Kitchen, providing 'solidarity not charity' for homeless people.
Become a Canary member to support fearless independent journalism
source:
https://www.thecanary.co/uk/2017/12/14/lied-pmqs-new-figures-prove-homelessness-spiralling-theresa-may-images/