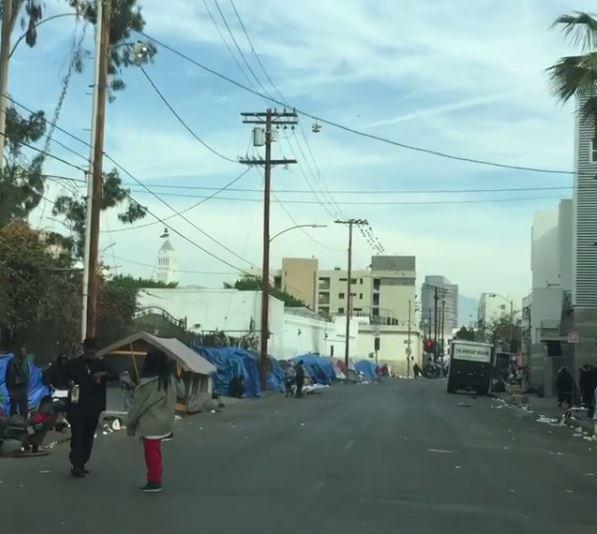 Shocking scale of Los Angeles' homeless problem

revealed in Christmas dashcam footage showing 'tent city' where 20,000 people live on the street. Video showing the tremendous scale of the homeless problem in downtown Los Angeles where

20,000

people live on the streets in tents and cars ["

L.A. Times" states 36000, or 54,000 - see below..ed.

]. How years of

uninterrupted Democrat rule has turned US inner cities into the stuff of dystopian nightmares.
Human Cattle. The inevitable outcome of Globalism. Utterly dependent on the Corporatist puppet governor and his underlings. All according to plan. I'm not sure who should disgust me most. Jerry Brown and his underlings, or the spineless nobodies who refuse to depose them. At least 5,000 of these homeless are able-bodied. Just walk into City Hall and take back control. This nightmare isn't going to stop until you take back control of your life. I know it sounds angsty, but in the case of California, it's that simple. Your leaders have been compromised by foreign powers and must be removed from office and put on trial.
The LA City Council are all paid an annual salary of at least $180,000. That is the highest paid legislative body in the nation. They're paid more than federal legislators, yet they still have these shanty towns and everywhere and crime everywhere. The politicians in LA traded votes for benefits, and only seem to really care about protecting the illegal aliens who vote for them, rather than do anything close to approaching their job; which is look out for their actual citizens. The whole thing is disgusting, and pretty much everyone involved is guilty. This is the face of leftism no. This is what leftist governing looks like. Every shatty, high crime area in the country is ran by democrats, and has been for decades.
I host the Church of Mabus radio show and it is going on 8 years. I've been in the paranormal community for 20 years. I provide content from a network of sources and guests and allies. Ranging from Politics to the Paranormal and the Spiritual. You can check out my other articles here at my BIOGRAPHY at BIN and you can check out my free radio show at this link HERE. Thanks for showing your support and stopping by.
The number of tents, makeshift encampments and vehicles occupied by homeless people soared 85%, to 9,535, according to biennial figures from the Los Angeles Homeless Services Authority.
Countywide, more than 44,000 homeless people were tallied in January, up from more than 39,000 in 2013, the report said. Well over half -- nearly 26,000 -- were in the city of Los Angeles.
I thought I'd swing by the supermarket in my neighborhood Tuesday morning to see if I could find a woman who lives in a van that's often anchored in the store's parking lot. Last time I saw her, I asked how she was. "All I have is Social Security," she said, "and there's no way I can afford a place...

Just one day after advocates for the homeless filed a federal civil rights lawsuit against the city of Los Angeles, work crews and police were out again Tuesday making arrests and removing homeless encampments along a highly visible stretch of the 101 Freeway downtown.The sweep, which was conducted...

A federal civil rights lawsuit filed Monday accused the city of Los Angeles of endangering homeless people by seizing and destroying their tents and bedding and then releasing them from jail into the cold without protection. The suit, filed in U.S. District Court in Los Angeles, accused the city...

Escalating their battle to stamp out an unprecedented spread of street encampments, city officials have begun seizing tiny houses from homeless people in South Los Angeles. Elvis Summers, who built and donated the structures, removed seven of the gaily painted wooden houses — which come with solar-powered...