3/11/18 #947
http://www.conspiracyjournal.com
Subscribe for free at our subscription page:
http://www.members.tripod.com/uforeview/subscribe.html
You can view this newsletter online at:
http://uforeview.tripod.com/conspiracyjournal947.html
Are you afraid of ghosts and monsters? How about aliens flying down in their space-craft to kidnap you from your bedroom at night? Or that the Men-In-Black are waiting for you just around the corner? Do you worry that the government is listening in on your private conversations? Or worse yet, do you worry that your community will be abandoned to the wolves and looters if a natural disaster strikes?

Well never fear - Conspiracy Journal is Here! Yes that's right. Conspiracy Journal, your number one source of conspiracies, UFOs, the paranormal and more, is here once again to protect you from THEM, by keeping you informed on all the news and information that you won't hear on your local 6 o'clock news.


This week, Conspiracy Journal takes a look at such insulin-robbing tales as:

- Why Doesn't the Pentagon Care About UFO Encounters? -


- Earth's Magnetic Field Radically Weakening Under Africa -
- Scientist Says Fossilized Trace Fossils Found On Mars -
AND:
The Enigma of Edinburgh's Miniature Coffins

All these exciting stories and MORE in this week's issue of
CONSPIRACY JOURNAL!

~ And Now, On With The Show! ~
---
Weird Winged Wonders:
The Twilight World Of Cryptid Creatures
THEY ARE BELIEVED BY MANY TO BE THE AGENTS OF THE "DARK GODS!" – THEIR MASSIVE WINGS, WHEN SPREAD FANLIKE, ARE KNOWN TO CAST A PARALYZING SHADOW OVER THE LAND!

THEY EXIST ALONGSIDE US IN THE "REAL WORLD," YET WE KNOW NEXT TO NOTHING ABOUT THEM!

THEY APPEAR TO INHABIT PHYSICAL BODIES, BUT THEY COULD BE ARRIVING FROM OTHER DIMENSIONS OR THE MULTI UNIVERSE THROUGH "WINDOW" AREAS OR PORTALS!

They are the winged wonders from the Twilight World of Cryptid creatures.

*Living Pterosaurs have been seen from Guantanamo AF Base in Cuba to the jungles of Papa New Guinea where the locals call them the "Ropa."

*They are the Flying Felines of the Egyptian dynasties to the Greek Heroes living in underground caverns on Mount Olympus.

*Here is the Mothman Creature, initially seen around the hamlet of Point Pleasant, West Virginia, and associated with the collapse there of the Silver Bridge – but now recently observed by dozens of credible witnesses in downtown Chicago. Some researchers say Mothman is a harbinger of death.

*The Jersey Devil is said to be a demon who flies near the Pine Barrens mainly in the dead of night, while the Thunderbirds are massive creatures with wingspans of more than 30 feet.

*Dragons are thought of as beings rooted firmly in mythology and the stuff of movies such as "The Hobbit" and popular cable TV shows such as "Game of Thrones." Yet sightings of these aerial demons known to spit fire have been seen worldwide and are part of every culture – past and present – from Europe to the United States, and every continent in between.

*Even more eerie are the flying and floating "alien" humanoids and witchy "brohaus" observed widely in Mexico and South America.

Here are dozens of the creepy-crawly narrations – backed up by the strangest of photographed evidence – of bizarre and unknown flying cryptids who frolic in our sky as if they have not a care in the world. Theories abound as to their origin(s) and nature and their overall grip on our perceived reality, as explored in this dramatic work by such respected researchers as Sean Casteel, Brad Steiger, Paul Eno, Allen Greenfield, Lon Strickler, Tim Swartz, Scott Corrales, Hercules Invictus, Jonathon David Whitcomb, Albert Rosales, Paul Dale Roberts, Steve Ward, Nomar Slevik, with the added editorial flare of "Exploring the Bizarre" co-host Tim Beckley.

Are they demons straight from hell or from an unknown shadow world? Ultra-terrestrials who have strayed into "our territory" from another time and space continuum? Or simply prehistoric monsters thought to have died out millions of years ago, but who still exist living just beyond our reach, ready to be rediscovered by science? Whatever they are, they are truly BIZARRE!



This Book is Now Available for the
Bargain Price of Only $16.95
So don't delay, order your copy of Winged Wonders
today for only $16.95 plus $5.00 for shipping - A GREAT PRICE!
Click Here to Order With PayPal



You can also phone in your credit card orders to Global Communications
24-hour hotline: 732-602-3407

And as always you can send a check or money order to:
Timothy Green Beckley
P.O. Box 753
New Brunswick, NJ 08903

Please make out checks to: Timothy Green Beckley
---
Exploring the Bizarre - Thursday Nights at 10:00PM EST


Heard Live on the KCOR Digital Radio Network
---
---
---

Email mrufo8@hotmail.com and tell Tim Beckley what it is you wish to order and he will send you back a PayPal invoice which you can pay immediately. Safe and secure and faster than waiting for us to get your order in the mail or charge it over the phone by credit card (which we can do by your leaving a message at 732 602-3407 - by dropping us a line at the same e mail).
---
---
- FUNERAL OF THE DOLLS DEPARTMENT -
The Enigma of Edinburgh's Miniature Coffins
By Allison C. Meier
It was a group of boys out hunting for rabbits who found the coffins one summer's day in 1836. They were roaming a rocky peak known as Arthur's Seat that overlooks Edinburgh, Scotland, when their attention was caught by a small cave, its entrance carefully covered with pieces of slate. After pulling back the slabs of stone, the boys found 17 coffins, each about 3.7 inches long, arranged in three tiers—two rows of eight, and a solitary coffin at the start of a third row. Inside each was a small wooden doll, its face carved with wide-open eyes, dressed in plain cotton clothes that covered the thin body from bare head to flat feet.

The question of who carved the figures and coffins—and why—has been a mystery ever since. Were the objects tools of witchcraft, part of a pagan ritual, or a memorial to one of the era's most notorious killing sprees?


A STRANGE DISCOVERY


The Scotsman was the first to report on the discovery, on July 16, 1836, noting that the "Lilliputian coffins" were all "decently 'laid out' with mimic representation of all the funeral trappings which usually form the last habiliments of the dead." Stranger still, it seemed "evident that the depositions must have been made singly, and at considerable intervals—facts indicated by the rotten and decayed state of the first tier of coffins and their wooden mummies [… while] the coffin last placed, and its shrouded tenant, are as clean and fresh as if only a few days had elapsed since their entombment."

From the beginning, theories swirled around the discovery of the so-called "fairy coffins," with some declaring them ritualistic offerings, and others describing them as creepy child's playthings. The Scotsman wrote, "Our own opinion would be, had we not some years ago abjured witchcraft and demonology, that there are still some of the weird sisters hovering about Mushat's Cairn or the Windy Gowl, who retain their ancient power to work the spells of death by entombing the likenesses of those they wish to destroy." Indeed, the moody Arthur's Seat has long drawn tales of witches casting spells on its volcanic hill; Edinburgh's dark history includes an estimated 300 people sentenced for witchcraft, with more burned there in the 16th century than anywhere else in Scotland.

Nor are witches the only aspects of folklore to be mentioned in connection with the coffins. Later in 1836, the Edinburgh Evening Post posited that the coffins might be related to an "ancient custom which prevailed in Saxony, of burying in effigy departed friends who had died in a distant land." The Caledonian Mercury chimed in, saying that they had "also heard of another superstition which exists among some sailors in this country, that they enjoined their wives on parting to give them 'Christian burial' in an effigy if they happened [to be lost at sea]."

Yet as George Dalgleish, keeper of Scottish history and archaeology at National Museums Scotland, says in a 2015 video, there's little evidence of such ceremonial burial practices in Scotland. And if a doll were created for witchcraft purposes, he notes, it's likely it would have been mutilated or destroyed rather than carefully bundled in stitched cotton clothing and hidden within a cave.

In the 1990s, a new theory emerged—linked to one of the darkest chapters in Edinburgh's history.

In the early 19th century, Edinburgh was home to a thriving underground trade in dead bodies. The buyers were medical students and their teachers, who required the corpses for training and study but who were legally limited to a small number of executed convicts for their supply.

William Burke and William Hare saw an opportunity. Their gruesome business plan was sparked when, in 1827, one of the lodgers at Hare's boarding house died suddenly while still owing £4 in rent, and they sold his remains to anatomist Dr. Robert Knox for 7 pounds 10 shillings (about $820 today). Rather than waiting for more spontaneous deaths, the pair turned to murder, targeting travelers and downtrodden characters whose disappearance was not likely to be noticed. After making a small fortune from the sale of their victims to Dr. Knox, they were caught when a lodger discovered a body in a pile of straw. Hare turned king's evidence on Burke, agreeing to testify against his fellow murderer for immunity. Burke was hanged, dissected as punishment, and his skin bound into a book.

But what do these infamous murders have to do with the enigmatic coffins? As author Mike Dash notes for Smithsonian.com, the link was first proposed by two visiting fellows at the School of Scottish Studies at the University of Edinburgh—Professor Samuel Menefee and Dr. Allen Simpson, a curator at National Museums Scotland. The pair examined the construction of the coffins and concluded that they had all been deposited in the 1830s. They also noted that the 17 coffins found in the cave match the number of Burke and Hare victims (including the first, who died a natural death).

As to why someone would create such a strange tribute to the murders, the answer may be tied to the belief in the need for a complete body on Resurrection Day. This is part of the reason dissection was often used as a punishment for criminals. Menefee and Simpson theorized that perhaps the coffins were crafted to return corporeality, or at least some symbolic dignity, to the dissected victims. As they write, "it would not be unreasonable for some person or person, in the absence of the 17 dissected bodies, to wish to propitiate these dead, the majority of whom were murdered in atrocious circumstances, by a form of burial to set their spirits at rest."

Of course, correlation does not imply causation, and there are many holes to be poked in the Burke and Hare theory. For one thing, all the wooden bodies were dressed in men's clothing, but the pair's victims were mostly women. Furthermore, the eyes of the figures are open, not closed like a corpse. Some have even speculated that Burke himself made the coffins, as their woodworking and tin decorations suggest the hand of a shoemaker—Burke's profession when he was not suffocating Hare's guests.

Eight of the coffins have been on display almost continuously at Edinburgh's National Museum of Scotland since 1901. (As to what became of the nine other coffins, the Scotsman wrote in their initial report that "a number were destroyed by the boys pelting them at each other as unmeaning and contemptible trifles.")

David S. Forsyth, principal curator of Renaissance and early modern history at National Museums Scotland, says the coffins still draw comments from museum goers. "It's the mystery behind them that makes them so compellingly intriguing, no one can solely own their story," he tells Mental Floss. "They can be linked to the more intangible aspects of our culture and history, or to real episodes such as Burke and Hare."

In December 2014, there was a curious twist in the case. A box was delivered to the museum with no return address. Inside was a detailed replica of the coffins found in 1836, down to the metal details on the lid and the roughly carved face of its figure. A note included with the object cryptically began "XVIII?," suggesting this was an 18th addition to the group, and quoted Robert Louis Stevenson's short story "The Body Snatcher" (1884), itself inspired by Burke and Hare.

The handwritten text declared the miniature coffin a "gift" to the National Museum of Scotland, "for caring for our nation's treasures." Especially the eight that cannot be explained.



Source:

Mental Flosshttp://mentalfloss.com/article/524144/enigma-edinburghs-miniature-coffins
---
Sign up today for Bizarre Bazaar and Conspiracy Journal Magazines


Click on banner to sign up for two FREE magazines!
---
FRIENDS OF CONSPIRACY JOURNAL

---


Restricted Airspace with Tina Maria Caouette Friday's at 7:00PM PST
On KCOR Digital Radio Network
---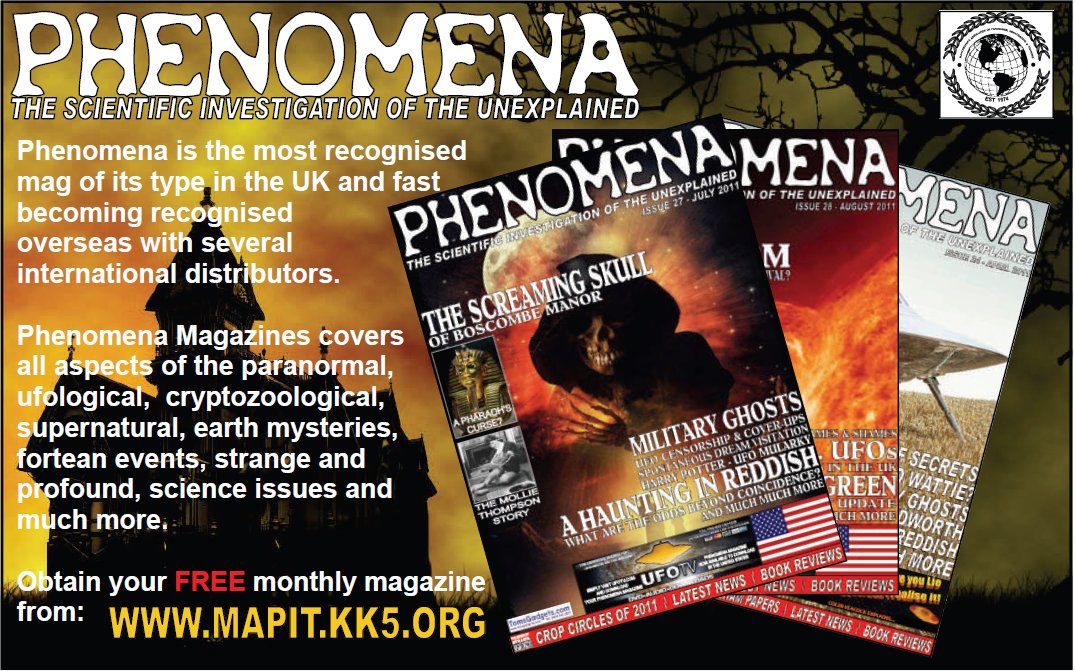 Free Issue of Phenomena Magazine
www.mapit.kk5.org
---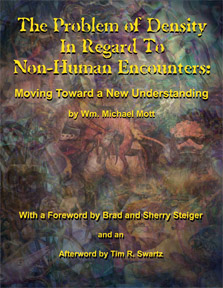 Wm Michael Mott - New Book Available on Kindle
---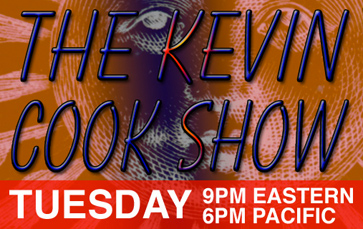 The Kevin Cook Show on Inception Radio Network
---


UFO Digest
---
Conspiracy Journal - Issue 947 3/11/18
http://www.conspiracyjournal.com
Subscribe for free at our subscription page:
http://www.members.tripod.com/uforeview/subscribe.html