Journalist Banned from Live Broadcasting on Youtube!!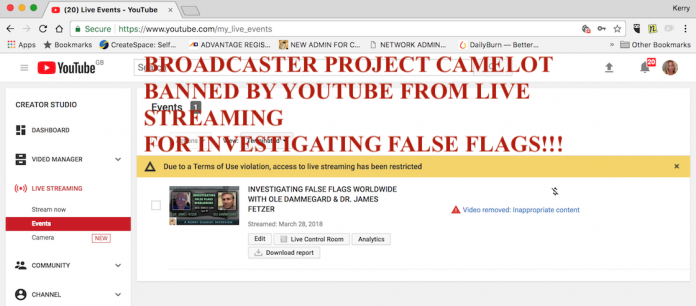 I have been banned from Live Broadcasting on my main youtube channel because of a recent interview regarding FALSE FLAGS WORLDWIDE with Ole Dammegard and Dr. James Fetzer! (Now reposted to Bitchute and Steemit!) This is politically motivated and violates my rights as a journalist to freedom of the press and free speech!! Please support our work. My income has been severely affected by this ban!
Please note I am still able to upload pre-recorded videos to my channel I believe. Which I will continue to do.Go here to donate to keep Project Camelot alive! I will attempt to live broadcast using my other youtube channel — stay tuned to see if I am successful in this attempt. DO NOT LET YOUTUBE get away with politically biased banning! Please protest loud and wide! Post this message everywhere on social media. When they silence journalists and investigators we are all at risk from the DEEP TOTALITARIAN NEW WORLD ORDER! –Kerry Cassidy, Project Camelot
NOT YOUR TUBE THEIR TUBE!!!
"…
FIRST THEY CAME FOR THE SOCIALISTS, AND I DID NOT SPEAK OUT—
BECAUSE I WAS NOT A SOCIALIST.

THEN THEY CAME FOR THE TRADE UNIONISTS, AND I DID NOT SPEAK OUT—

BECAUSE I WAS NOT A TRADE UNIONIST.

THEN THEY CAME FOR THE JEWS, AND I DID NOT SPEAK OUT—

BECAUSE I WAS NOT A JEW.

THEN THEY CAME FOR ME—AND THERE WAS NO ONE LEFT TO SPEAK FOR ME. —