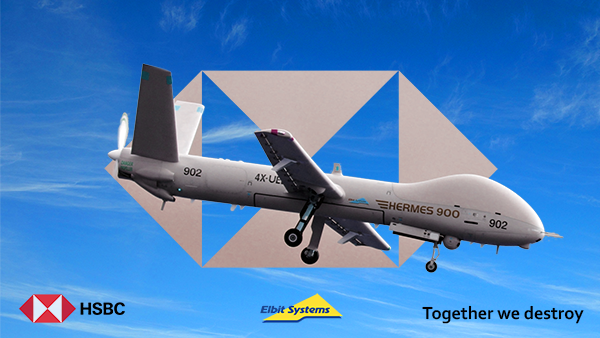 HSBC:
divest from Elbit and other companies arming Israel
Israel uses military force to maintain its oppression of Palestinians. It targets people with tear gas grenades, rubber-coated bullets and live ammunition, and carries out mass arrests, house demolitions and extrajudicial executions.
This brutality lies at the heart of Israel's systematic violations of Palestinian rights, amounting to serious breaches of international law, and even war crimes.
HSBC is a major shareholder in companies selling weapons and military technology to Israel including Elbit Systems, which manufactures drones and surveillance technology, and has recently sold Israel cannons for internationally banned cluster munitions. HSBC claims to have a strict policy against doing business with companies involved in cluster munitions production, but as of 2017, it held £3.6 million worth of shares in Elbit Systems.
We can't allow banks on our high streets to continue lending support to Israel's militarised repression of Palestinians.
Together, we can break the chain of complicity.
Tell HSBC to divest from Elbit

and all other companies selling weapons used in violence and human rights abuse.
Elbit Systems is one of Israel's largest arms companies, and the Israeli military is one of its main clients. Elbit bosses boast that its weapons are 'battle-tested' and 'combat-proven', meaning that they have been used again Palestinians.
Elbit is or has been involved in the production of:
Drones

Surveillance equipment

Cannons for cluster munitions

White phosphorous
Aside from its Israeli headquarters, Elbit Systems also has seven subsidiary factories in the UK, many of which have been the regular targets of protests and pickets by anti-arms, human rights and peace campaigners. Elbit has also received large UK MoD contracts, and is encouraged to sell its wares at UK government sponsored arms fairs.
Our campaign to get HSBC to divest from Elbit is a part of our larger Stop Arming Israel campaign, calling for the UK government to implement a two-way arms embargo on Israel. For more on the campaign, see: https://waronwant.org/stop-arming-israel
see more:
War on Want: the worldwide movement for global justice:
UK bank complicity in Israel's crimes against the Palestinian people