Headlines on the bbc news tonight - prison screws revolt, over "unprecedented inmate violence" - note that this surely is simply the result the appalling of lack of care regarding certain inmate's instances whereby, for example, the inmate's proper medical treatment is withheld - and more. This "protest" soon fizzled out by midday after these characters were told there'd be criminal action should their griping continue. A tiger with no teeth.
A full portfolio of what has happened to Maurice will be sent to relevant parties, beginning with the P.M., down. I enclose and will enclose to government ministers the letter received from the M.O.J. which details how inmates should be treated - "clients should receive the best possible [NHS] treatment" - something that has clearly hardly ever happened for Maurice Kirk since his entry into HMP PARC in December 2017, the sentence based on an extremely questionable conviction. This denial of medical treatment is an appalling abuse of this inmates rights, and a blatant slap in the face to the MOJ's statement "all patients receive the best possible treatment" - a statement clearly made in a letter received in 2013 [below] in reply to a letter of complaint made regarding a similar inmate who was denied medical treatment for many months whilst serving a sentence and who nearly died as a result.
---------------------------------------------------

Prison staff protest over 'unprecedented' inmate violence - 14 Sept. 2018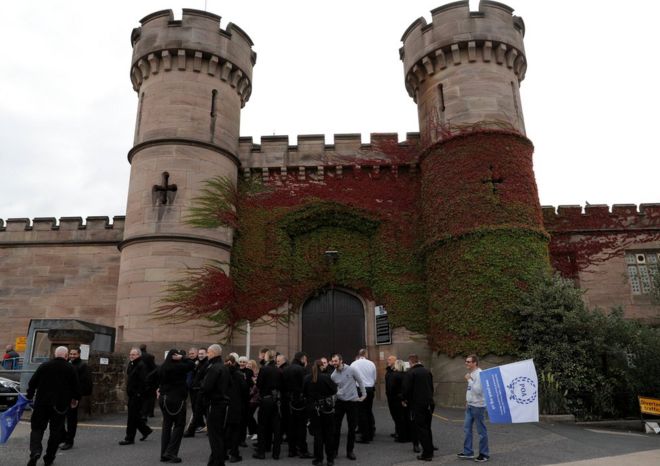 Prison staff in England and Wales have taken part in widespread protests over "unprecedented violence" in jails.
Staff complained about safety within prisons, saying they had been attacked by gangs of inmates, been spat at and had urine thrown at them while on duty.
The union said there were protests outside "a majority" of jails, which ended after six hours when the government agreed to talks on Monday.
Prisons Minister Rory Stewart said the action was illegal.
When it announced the suspension of the protest, the Prison Officers' Association said the prison service had withdrawn the threat of court action against the union.
General Secretary Steve Gillan said he was "confident a deal is a deal", adding that he hoped "for meaningful, constructive dialogue" next week.
The protests caused delays in courts because prisoners were unable to be transferred for hearings.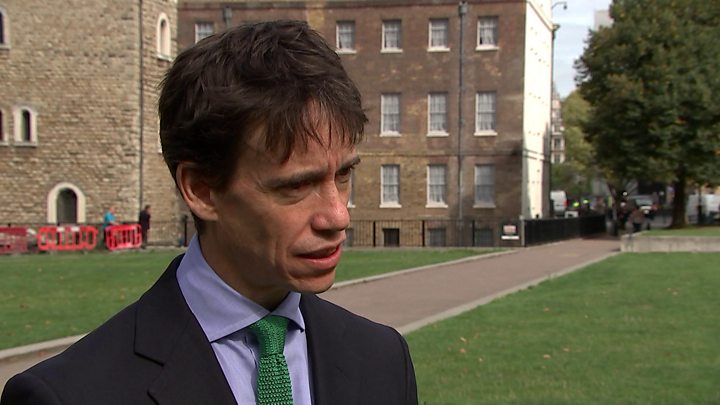 The action came after an inspection report on Thursday found inmates had effectively taken control at Bedford Prison.
Brian Cooper, branch chairman of the Prison Officers' Association, said conditions at the jail were unsafe "every day".
"This year so far we've had an officer who's had his head stamped on and needed emergency surgery for a bleed on the brain.
"We've had an officer have his arm broken with a pool cue when he was attacked by a prisoner.
"Another officer has a fractured eye socket with part of the bone detached and might lose the ability to move his eye properly, permanently."
Bucket of urine
A female prison officer who was demonstrating outside Bedford Prison said she had a bucket of urine thrown over her from an above landing.
"They're not bothered if you're female or male; they have no respect regardless if you're female," she told BBC Radio 5 live.
"We have some issues of being hit. I've been spat at several times. The other week I was spat at twice within five minutes in the face."
On that occasion she said she had to be tested for hepatitis B.
Julia Killick, who was a prison governor for 18 years, said the walkout would have made it "horrendous" for prisoners, as well as the remaining staff who would only have been able to do the "absolute minimum".
She told Radio 4's World at One that tasks such as serving food would have been difficult to carry out, while prisoners could get "very angry or distressed" having to stay locked up.
Analysis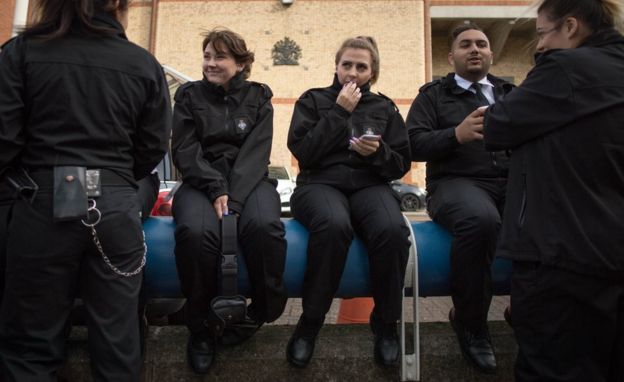 By Danny Shaw, BBC home affairs correspondent
Prison staff are banned from taking industrial action, so holding "protest" meetings in car parks or outside the gates on the grounds that health and safety is being compromised is the union's way of trying to circumvent the rules.
The POA did it before, most recently in November 2016 when 10,000 officers stopped work, before the High Court ordered them to return.
This time, the threat of legal action - together with a government pledge to address staff concerns - was enough to bring the walkout to an end.
Nevertheless, it has highlighted the very real problems POA members are facing.
There is particular frustration officers haven't been equipped with PAVA incapacitant spray - similar to pepper spray - to deter and respond to attacks.
A trial has been taking place in four jails but union officials believe the government is stalling on rolling the equipment out to other prisons.
---
Before an agreement with the union was reached, the Ministry of Justice said "contingency plans" were in place and it was seeking an injunction to stop the protests.
Labour said the action was a "wake-up call" for the government, adding that extra funding to end understaffing and overcrowding was "desperately needed".
Images posted on social media showed walkouts at many prisons.


The POA said members were instructed to ensure there were enough staff on duty inside prisons to deliver medication to prisoners and deal with any disorder.
It accused the government of overseeing "the demise of the prison service over the last eight years".
Mr Gillan said ministers had been "paying lip service" to the safety and human rights of prison staff.
"We will now be demanding that the government provide safe prisons, meet our demands to improve personal protective equipment, reduce levels of violence and overcrowding," he added.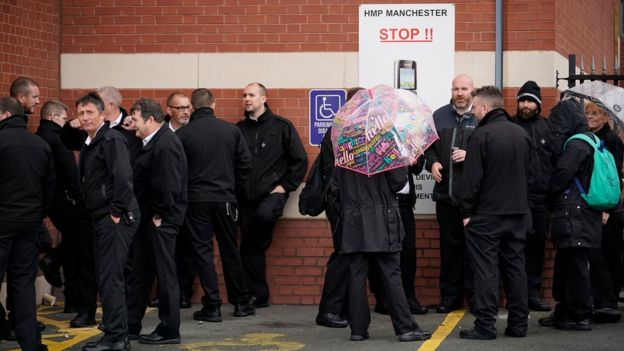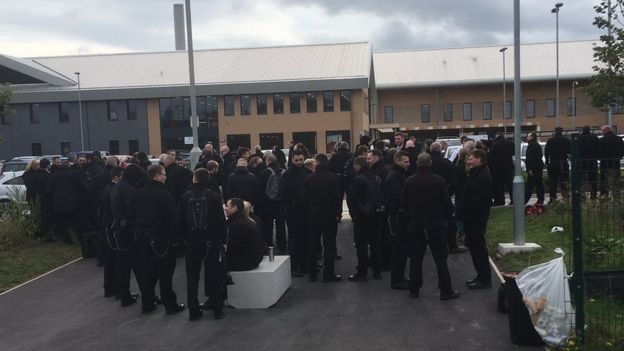 The union said the decision to call for a protest followed a letter from the chief inspector of prisons, issuing an urgent notification notice at Bedford Prison, published on Thursday.
Inspectors said they found Bedford prisoners regularly ignored rules, that there was a smell of drugs "pervading" some wings and an infestation of rats.
Peter Clarke, the chief inspector of prisons, sent a letter to the Ministry of Justice, which means the government has to publish a response and plan of action for the jail within 28 days.
It is the fourth jail to be subject to the "urgent notification" process after Nottingham, Exeter and Birmingham.
source:
https://www.bbc.co.uk/news/uk-45518744
Archive:

Maurice is serving a highly questionable 2 year sentence, beginning on 14/12/2017 in HMP Parc, Bridgend, Wales – the archive of posts here with MK's updates from HMP Parc:
Received: Within 2 sheets received Maurice worryingly writes that he is unable to tell of what is really happening in that place because of repercussions. He tells also that his immediate release is being blocked by the police – identical to when they released him before when he was in prison when he was eligible for release in July 2014 and he was put in a hostel, only to be recalled back to prison a week later on the most questionable of excuses!! This targeting is surely absolutely outrageous, and an unspeakable collusion to deny Maurice the most basic of his Human Rights – the right of freedom – perverting the laws of the land also! What is to be gained by keeping Maurice from being free and behind bars where he is treated worse than any animal? Or is it that the authorities take a sickening delight in making him suffer by keeping him locked up where they can target him so cruelly by keeping him in serious pain by denying him the medication he has every right to have, as well as making him suffer by denying him the corrective surgery he so badly needs by blocking his long awaited hospital appointments. It is truly a very sad and very sickening situation – but there is no excuse for this inhuman behaviour targeted at Maurice by these characters who act so nonchalantly, knowing they cannot be brought to book as they should be and ARE ABOVE THE LAW!! HOW CAN THIS BE RIGHT? Respect is earnt, and these characters have earnt none at all, but rather deserve back 10-fold what they are and have been inflicting via their unspeakable acts against a 73-year-old man who in no way deserves the cruel and illegal treatment that is forced upon him – the result of utter conspiracies by police and legal types alike. May that which they inflict upon Maurice be reversed and smite them, as they truly deserve: "

For the curse of His grade is that he must speak Truth, that the Falsehood thereof may enslave the souls of men"

[from "Liber B vel Magi", Crowley]. So mote it be!
The very first sentence of this 1st note speaks volumes: "Conditions here on the main subject I cannot comment upon or else!". Whichever is the "main subject" he talks of we can only assume – be it the denial of his medication, or the denial of his urgent and long planned and long awaited hospital appointments, or his immediate release which he was eligible for on the 1 August, and is still eligible for now that we are told is being blocked by that nefarious party – each "main subject" is surely as serious as the next!
Archive:

Maurice is serving a highly questionable 2 year sentence, beginning on 14/12/2017 in HMP Parc, Bridgend, Wales – the archive of posts here with MK's updates from HMP Parc:
pic taken in better days, before 7+ years of imprisonment were forced upon Maurice Kirk on highly questionable matters, and before Patrick Cullinane mysteriously disappeared in November 2016 – see more: https://butlincat.com/2016/11/12/who-murdered-patrick-cullinane/
Received:
Maurice tells that in the awful HMP Parc his mail is being interfered with – his letters are not being sent out, etc. [it is alleged], with important letters not arriving at destinations [UK departments]. Plus his medication is still refused him [totally illegal],despite a multitude of protests – as are vital and urgent longstanding hospital appointments denied. How these characters responsible for all this cruel and outrageous victimisation and targeting sleep at night beats me – I'm talking very much about those persons connected to this "HMP Parc", from the governor down, to his "boys" – the henchmen at G4S, and the suited gents who sit in offices somewhere and are paid ridiculous amounts in salaries by the taxpayer – to do what? Nothing it seems when it comes to the illegalities occurring in HMP Hellholes – one being HMP Parc, Bridgend, Wales. A very real public scandal, and it is guaranteed Maurice is not alone in this pathetic abuse of power.
1]
Received
–
thankfully the
2 notes received are much more heartening than those received on the 24 August [post below], stating amongst other things that an endoscopy / colonoscopy investigation has been promised, but M states he is staying on hunger strike until things are confirmed properly. Also he states he is off any "medications in possession" restriction [the restriction being where a convict is barred from being allowed to have medications given to him by the prison kept in his cell or on his person [in case his cell is burgled by another con]] – the medication to be taken as and when needed, eg. directly before food in MK's case, which is all well and fine that MK is on no such restriction IF they dispense the medications to him in the first place – which they aren't, hence his remaining on "hunger strike" as a result of this appalling [and illegal] misuse of the prison system, along with other irregularities. See the Ministry of Justice letters at the foot of this page where the MoJ have the audacity to declare that prisoners, as NHS patients or clients "get the best possible NHS treatment" whilst in HMP, when the truth sadly shows that they most definitely don't, as this sentence alone proves, for instance, along with the other 7 years-worth of sentences served since 2009 which are also testimony to profound irregularities regarding medical treatment not forthcoming that no one does anything about, as they should, at the time or after.
Other positive progress is contained within the notes [if one can find and read them, but I'm sure they're there] and perhaps thanks are to be credited to the Welsh Secretary Mr. Alun Cairns, Maurice's former MP who has known Maurice for many years, who [maybe] acted upon certain criticisms aimed his way recently because of the absolute break down of not only Maurice's basic human rights to receive proper medical treatment whilst in HMP Parc, but also in other departments where travesties are / were taking place for so long eg. hospital visits ignored when Maurice most needed them. So, we're not out of the woods by a long chalk, but if any progress has been made that Maurice speaks of a big "thank you" to Mr. Cairns is surely in order, and I for one apologise for my venomous tone in recent communications, brought about by the utter frustration of little changing for now 8 and a half months since M's entry into HMP Parc where even the simplest of medical treatment has been denied 95% of the time by these G4S prison staff. I mean, would anyone in their right mind let any animal suffer as Maurice has for over 8 months? Having said that, Maurice states he's "bed bound" because of his present medical situation, so let's hope that rare praise for Mr. Cairns isn't misplaced and Maurice continues to find himself in a better and more acceptable position, which, let's face it, should've been happening from Day One, let us not forget, and let us not forget also that Maurice shouldn't even be where he is if the law had been dispensed properly, Her Honour Judge Tracy Lloyd Clarke, because "having knowledge of a restraining order" [which I heard said with my own ears at a hearing directly before Maurice's sentencing hearing] is very different to a restraining order being served on someone properly and according to the law, which the original order most definately wasn't – the same as this very same order couldn't be shown to a jury who asked to see it many moons ago. Something is very wrong somewhere…
The 2 notes:
2:
Received: Maurice, 73, states he is again on hunger strike because of the denial of the prison staff to dispense him the medication he has every right to receive – for months now. Note phone calls to family members along with calls to supporters are also denied for Maurice, as well as urgent hospital appointments for debilitating stomach ailments. The relevant medical records the hospital staff need to see regarding any medical procedure urgently needed can be undertaken are also denied –
a blatant abuse of MK's human rights and a public scandal!
Note MK also writes: "I CAN NO LONGER SEND AS TO WHAT IS REALLY GOING ON" – with threats of violence towards him by morons serving sentences in this place one can hardly imagine the dire situation MK is in now, with no authority caring one jot what happens to MK or what goes on in this private gulag of a prison. His supposed release date of 1 August is now apparently abandoned due to a prison system completely out of control. Someone must surely answer for this outrageously unacceptable situation…
1] note re: being on hunger strike
2] Prisoner's formal complaint 27 July 2018
3] letter to Cardiff C Court 14 Aug 2018
4] note "I CAN NO LONGER SEND AS TO WHAT IS REALLY GOING ON"
5] G4S letter re: "number of complaints"
6] 2nd G4S letter: the return of complaints
1] note re: being on hunger strike
2] Prisoner's formal complaint 27 July 2018
3] letter to Cardiff C Court 14 Aug 2018
4] note: "I CAN NO LONGER SEND AS TO WHAT IS REALLY GOING ON"
5] G4S letter re: "number of complaints"
6] 2nd G4S letter: the return of complaints
Archive:

Maurice is serving a highly questionable 2 year sentence, beginning on 14/12/2017 in HMP Parc, Bridgend, Wales – the archive of posts here with MK's updates from HMP Parc:
These letters below, from the MoJ in 2013, with statements completely contradicting what actually goes on in these "prisons". Maurice, now 73, has been denied medical treatment, including treatment for a probable broken ankle, a tooth abscess and also "Barrett's Syndrome" for months now – his medication being denied for most of the 6 months he's been in HMP Parc:
above: 16 Oct. 2016, arrested for driving irregularities transporting a plane from A to B [the plane wasn't secured well enough or something] – nothing transpired after…
FAIR USE NOTICE: This item may contain copyrighted (© ) material. Such material is made available to advance understanding of ecological, political, human rights, economic, democracy, scientific, moral, ethical, and social justice issues. This constitutes a 'fair use' of any such copyrighted material as provided for in section 107 of the US Copyright Law. In accordance with Title 17 U.S.C. Section 107, this material is distributed for analysis, commentary, educational and intellectual purposes. In some cases comedy and parody have been recognized as fair use.
Creative Commons Attribution-NonCommercial-ShareAlike 3.0 Unported License. For more information please visit:
http://www.law.cornell.edu/uscode/text/17/107
NB: DISCLAIMER: Everything posted on this site conforms to the meaning of the word "alleged" as defined under UK and US Laws and Statutes.