12/16/18 #983
http://www.conspiracyjournal.com
Subscribe for free at our subscription page:
http://www.members.tripod.com/uforeview/subscribe.html
You can view this newsletter online at:
http://uforeview.tripod.com/conspiracyjournal983.html

Are you sick and tired of aliens abducting you in the middle of the night, interrupting your sleep and disturbing the cat? Annoyed with the Men-In-Black constantly knocking on your door and following you to the grocery store in their big black Cadillacs? Pissed off at the NSA, the CIA and the FBI bugging your phones and reading your e-mails? Well, for a limited time only you can now get your very own bottle of "CONSPIRACY BE-GONE!" It comes in a handy spray bottle for easy spritzing of all those annoying conspiracy related problems. ONLY $19.95!!

Of course we don't really have any Conspiracy BE-GONE, but we have the next best thing! Your latest issue of Conspiracy Journal. The weekly email newsletter that is sure to annoy all those extraterrestrials, government agents, and pundits of the New World Order who want to keep you in the dark about what is REALLY going on in the world today.

This week, Conspiracy Journal takes a look at such eye-popping tales as:
-
The CIA and Remote Controlled Dogs -


- Body Found By Psychic Confirmed to Be Missing Father -
- The Australian House of Miracles -
AND:
Woman Who Married 300-Year-Old Ghost Calls it Quits

All these exciting stories and MORE in this week's issue of
CONSPIRACY JOURNAL!

~ And Now, On With The Show! ~
---
TIMOTHY GREEN BECKLEY'S TRILOGY OF TERROR
NOW ONLY $49.95 For All Three!

Three Terrifying Books From Mr. UFO Can Be Yours At This FANTASTIC PRICE!!
UFO Hostilities - Screwed By The Aliens - Alien Blood Lust
Just in time for the holidays...these three mind-blowing books are a perfect gift for any fan of the WEIRD and BIZARRE. If you act now, all three books can be yours for only

$49.95 (Plus $5 shipping).



So Order Right Now Using PayPal From The Conspiracy Journal Bookshop and Make Someones Dreams Come True With These Incredible Books of UFOs, Conspiracies, and Outright Terror!

Click Here to Order From the Conspiracy Journal Bookshop.
---
Exploring the Bizarre - Thursday Nights at 10:00PM EST


Heard Live on the KCOR Digital Radio Network
---
Listen to Joshua P. Warren's review of
Timothy Green Beckley's book
"Screwed By the Aliens"


www.buzzsprout.com/127013/838660-screwed-by-the-aliens
---
- NEXT, REMOTE CONTROLLED HUMANS DEPARTMENT -

The CIA and Remote Controlled Dogs
By Andrew Whalen

Newly released files from "behavior modification," or mind control, projects conducted as part of the infamous Project MKUltra reveal the CIA experimented in more than controlling humans with psychotropic drugs, electrical shocks and radio waves—they also created field operational, remote-controlled dogs.

The documents were provided under the Freedom of Information Act (FOIA) by John Greenewald, founder of The Black Vault, a site specializing in declassified government records. In one declassified letter (released as file C00021825) a redacted individual writes to a doctor (whose name has also been redacted) with advice about launching a laboratory for experiments in animal mind control. The writer of the letter is already an expert in the field, whose earlier work had culminated with the creation of six remote control dogs, which could be made to run, turn and stop.

"As you know, I spent about three years working in the research area of rewarding electrical stimulation of the brain," the individual writes. "In the laboratory, we performed a number of experiments with rats; in the open field, we employed dogs of several breeds."

The letter writer characterizes the work with remote-controlling dogs as a success, describing "a demonstrated procedure for controlling the free-field behaviors of an unrestrained dog."

Attached to the letter is the writer's final report from his earlier research, published in 1965, titled "Remote Control Behavior with Rewarding Electrical Stimulation of the Brain," with the principle investigator's name redacted.

"The specific aim of the research program was to examine the possibility of controlling the behavior of a dog, in an open field, by means of remotely triggering electrical stimulation of the brain," the report states. "Such a system depends for its effectiveness on two properties of electrical stimulation delivered to certain deep lying structures of the dog brain: the well-known reward effect, and a tendency for such stimulation to initiate and maintain locomotion in a direction which is accompanied by the continued delivery of stimulation."

Delivering that electrical stimulation to a dog's brain involved some gruesome side effects, including "infection at the electrode site due to a failure of the surgical wound to heal."

After trying out a plastic helmet, they instead settled on a new surgical technique that involved, "embedding the electrode entirely within a mound of dental cement on the skull and running the leads subcutaneously to a point between the shoulder blades, where the leads are brought to the surface and affixed to a standard dog harness."

After implanting electrodes deep in the subject dog's brain, a battery pack and stimulator was added to the harness, through which signals could be sent to the electrodes. "The stimulator had to be reliable and capable of sufficient voltage output to be usable in the face of expected impedance variation across individual dogs."

At least by 1967, when the letter was written, it seems unlikely that remote-controlled dogs were ever used in the field, as the letter writer outlines some of the limitations and challenges to any follow-up program going forward.

"Behavioral control was limited to distances of 100 to 200 yards, at most," they write in the letter. Other concerns are more mundane, such as the letter's speculation regarding where the CIA might find a "suitable open field" nearby.

Still, the prospect of a potential new laboratory seems to fire the letter writer's imagination, who describes potential experimentation on "a range of species," should they want to move past "basic research, i.e., rat work."

C00021825 is far from the only "Behavioral Modification" document released by The Black Vault involving animals. Numerous other files pertain to budgeting and acquisition for animal experimentation. One file (which has been previously declassified) details, with heavy redactions, the practical possibilities of training and equipping cats for "foreign situation" field work.

Source: Newsweek
https://www.newsweek.com/cia-mkultra-documents-files-remote-control-dogs-1250519
---
- LOOK IN THE BASEMENT DEPARTMENT -

Body Found By Psychic Confirmed to Be Missing Father
By Kyle Swenson

A father whose remains were found in a Long Island basement more than 50 years after he went missing was most likely murdered, police say. The skull, was "fractured" by some great force, according to a Suffolk County Police spokesman.Steven Carroll and his brother Michael stumbled upon a skeleton they believed to be their long-missing father in the basement of their childhood home in Lake Grove this past October.On December 12, Suffolk County police confirmed the bones belonged to their father, the late George Carroll. His death is being investigated as a murder, police said."The DNA was extremely well-preserved within the skeletal remains, even after almost 60 years," Suffolk County Medical Examiner Michael Caplan said. Authorities say they got a call from the Carroll family on Oct. 31. When they got to the home on Olive Street, Michael Carroll met them to report human remains in the basement.The brothers told police they believed the bones belonged to their father, who disappeared in 1961.The family never knew what happened to him. But police say for reasons that weren't clear at the time of the discovery of the bones, the family had always thought he might be buried in the home.Mike Carroll bought the Suffolk County home from his mom before her death in 1998, and spent years digging around for his fathers remains, spurred on by a hunch and a psychic who purportedly got an impression of a hidden body in the basement, he said.The psychic walked right up to the spot and pointed to the cement floor."The energy is here," the psychic told Michael.And the body's location wasn't the only thing the clairvoyant got right, Mike revealed Wednesday."I was told by the psychic it was blunt force trauma," he said. "She actually said to me that it was a pipe, that he got hit in the head by a pipe and he was buried alive."It was that hunch that led the missing man's grandsons to start digging. They excavated the basement over several months, police say. And coincidentally, they hit the remains — which sat below concrete — on Halloween.Steven Carroll said his mother told him and his siblings very little about what had happened to their father until just before her death in 1998. The family never filed any missing persons report and there is "no record" of police involvements in his disappearance, Suffolk County police said.He and his siblings all had different theories about their father's disappearance, Carroll told News 4 after the bones were discovered, though he declined to share some of the differences in speculation.Some family members said George had run away to return to Korea. Others suggested he was killed — and buried in the basement. The area was under construction around the time he went missing.Not long after George disappeared, a man named Richard Darress moved into the Olive Street home. He eventually married Dorothy, and they had a son together. Darress and Dorothy divorced in the early 1980s and Darress moved to a Mexican city near the Texas border. He died earlier this year, according to the police."We felt abandoned as kids but he was here the whole time," Steven Carroll, who was just 5 when his father George disappeared, told News 4 shortly after making the discovery. Polie said that for reasons that remain unclear, the family had always thought he might be buried in the home, which is now owned by Michael Carroll.The sons hope to give their father, a Korean War veteran, a burial at Calverton National Cemetery.

Source:

The Washington Posthttps://www.washingtonpost.com/nation/2018/12/13/he-was-told-his-father-walked-out-then-he-started-digging-up-basement/?noredirect=on&utm_term=.2c3fd2fab980
---
- SOUND OF THE HUMMADRUZ DEPARTMENT -

Mysterious Sound Perplexes Lakeview Neighborhood
By Vince Gerasole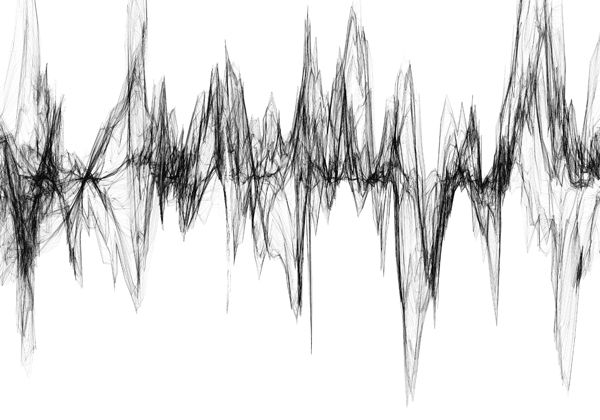 It sounds like an alarm clock that doesn't stop.

That's how people living and working in Chicago's Lakeview neighborhood describe a mysterious hum in the air.

They're asking, "What is it? And why can't everyone hear it?"

Even though the noise is subtle, it's been driving some people between Clark and Halsted streets crazy. They hear it in the morning, noon, and night, and they've been looking for an explanation.

The sounds of city life echo through Lakeview, but lately something sounds strange.

Lakeview resident Lindsey Hoffman couldn't ignore the noise as she walked down a usually-quiet street with her son Joey on Thursday.

"I hear it right now," she said.

Another Lakeview resident, Stephanie Boroski, described the noise as high-pitched.

"Like an alarm sound, like a pulse but not really," Boroski said.

The sound can feel "maddening," Boroski said.

The mysterious noise has been reverberating through Facebook message boards too.

But somehow not everyone can hear it. Five-year-old Joey Hoffman said he heard nothing unusual.

Andersonville resident Kate Korte said she couldn't hear the strange sound. Korte, who works in Lakeview, speculated that the sound probably blends in with the usual city noise.

"Maybe I am just muted because I live in the area and hear sirens," Korte said.

Audiologist Dr. Akbar Razvi said some people hear sounds that others can't because everyone's hearing sensitivity is different.

"People can have hearing loss at different frequencies and some people can of course have normal hearing sensitivity," he said.

Dr. Razvi said learning what the sound really is requires detective work.

Boroski said she walked around a Lakeview parking lot to try to determine where the noise was coming from, but she couldn't figure it out.

A man who lives in a high rise on the 800 block of Grace thinks he has the answer: a massive air circulation unit on the building's third-floor garage.

Residents nearby say they're convinced it's to blame.

"The noise is definitely that machine–that's the noise we have been hearing," Stephanie Wide said.

Building management informed residents that they have scheduled a servicing for the fan that circulates air on all floors of the high rise.



Source

: 2 CBS Chicago
https://chicago.cbslocal.com/2018/12/13/mysterious-sound-in-lakeview/
---
- EVERY NOW AND THEN WE NEED A MIRACLE DEPARTMENT -

The Australian House of Miracles
By Brent Swancer

It's the holiday season, and in this world that at times seems to be imploding upon itself it is a time for many around the planet to hope for something better. It is a time to be with family, to think of joy and peace, to believe in miracles. Here in the holiday spirit I will present a location infused with a strange phenomenon that has given hope to many people whether it is real or not, a house in the country of Australia that has an unsolved mystery that seems to suggest that miracles just may indeed exist.

It all begins with a modest three-bedroom home in a suburb of western Sydney, which is the abode of a George and Lina Tannous, and up until 2006 their son, Mike, as well. In September of that year tragedy struck when 17-year-old Mike Tannous was involved in a fatal car accident practically just down the street from the home, which took his life and left his parents in a deep state of grieving. It was a dark time for the family, their only son dead, and the deeply religious couple would later say that prayer was the sole thing that had gotten them through the wilderness of grief and anguish. Then, exactly 40 days after the tragic accident, strange things began to happen around the ordinarily normal and unassuming house.

It started rather innocuously enough, when Lina was allegedly in her son's room and spotted what looked like a tiny diamond sparkling in the wall over his bed. She went closer to investigate, and that was when she noticed that it was actually some wet spot of what looked like some sort of gel or oil, although where it came from was not immediately apparent. Over the next days and weeks this strange oil began to appear in other places around the house, beginning with religious idols, framed photos of Mike, and places that the son had often frequented, and graduating to bleeding from the walls and ceiling in sheets, none of it with any clear source. There was no accounting for it, no reasonable explanation, and although it was at first rather frightening for the family they soon came to suspect that it was their dead son communicating with them from the grave, a theory further bolstered when George Tannous recalled a dream that Mike had told him about 2 weeks before his accident, in which he had said the Virgin Mary had guided him around Heaven and told him the special things were in store for him.

The idea that it was their son was made even more apparent when on several occasions the strange oil was found to have scrawled Mike's name and birth date across the wall, and there were sometimes religious symbols drawn there as well. The Tannous' came to believe that this was a true sign from God, that their son was speaking to them from beyond, and word began to leak out to the media of this "miracle." The devout began coming to the Tannous house in droves to pray, and the family welcomed them into their home to witness it for themselves. These people were hoping to see some sign from God, and according to reports some of them got it. One woman claimed that she had been unable to conceive a child, but shortly after visiting the home she became miraculously pregnant. Another claimed to have been cured of cancer after rubbing some of the oil onto herself, and there were nearly a dozen such miraculous healings reported, further driving the fame of the house to make it known all over the world. Mr. Tannous would say of the occurrences:

"Mike is a messenger between us and God. He has healed so many people. My son's spirit is in this house. He loved God and Jesus. He has come to this house and the oil is his spirit. There is no question, this is a miracle."

Although there was obviously quite a bit of skepticism aimed at the supposed "miracle," with many pointing out that it was either a natural seeping of condensed moisture from under the wallpaper or just a flat-out hoax, the oil itself has remained mysterious despite actual testing. The only thing that can really be really ascertained about the strange substance is that it contains water, gold, and a "safe level of uranium." Wait, what? Is there a "safe" level of uranium and why is it weeping from the walls? What would uranium have to do with a gift from God? Who knows?

The inability to distinctly identify the oil only served to fuel the mystery, and people began to make pilgrimages to the house from all over the world, always welcomed into the home and never asked to make any sort of donation. One family friend would say, "I believe in what is happening; I guess this has also to do with my faith. They are not taking donations, nor do they seek '15 minutes of fame'. They strongly believe this is a sign from God for the world to see."

In the meantime, the Tannous family has made appeals to the Church to seriously consider their son for Sainthood, based on the miracles he was supposedly performing from beyond the grave. For a while the "Weeping House," or "The House of Miracles," was all over the news and drew in hundreds of visitors a day, generating quite a bit of religious debate and skepticism in the process. Then skeptics got a boost when George Tannous was arrested for credit card fraud, casting a rather unfavorable light on him and painting him as a scam artist, but the fact remains that he has never asked for any money off of his "miracle," and even after being found guilty of fraud he has adamantly defended the mysterious phenomenon happening at his home, and accused authorities and the bank of trying to taint his good name and cover up the miracles, saying:

I would like to announce that there is a big game prepared by those who are against the miracle and the House of Miracles. The Westpac Bank opened this case against me while the miracle is giving fruits to the world. The miracle is completely true and it's clear from the result of the oil which was tested by the scientists from the government. If somebody has a problem with my job, let him take me to court. The miracle will continue always and the door is always open.

The accusations have not really had any impact on the faithful, who still show up in large numbers hoping for some miracle or to be healed at this place. Is any of it real, or is this just a hoax given power by the blind hope of the faithful? For now, it remains an odd little unexplained mystery, and whether miracles really exist or not, in this season it sure is nice to at least think they do.



Source:

Mysterious Universe
https://mysteriousuniverse.org/2018/12/the-mysterious-australian-house-of-miracles/
---
---
PAYPAL DISCOUNT FOR ORDERS FOR NEW
CONSPIRACY JOURNAL #49

Hail! Hail! The latest print edition of the Conspiracy Journal (#49) is available. Either e-mail mrufo8@hotmail.com for a copy to go to your snail mail or browse right here, right now, on line. All orders will receive a 10% discount if placed through PayPal. Just deduct the amount before sending it in or we can send you a PayPal Invoice.


Our Finest Books and Other Items of Interest Now Available for Your Pleasure!

USE PAYPAL FOR QUICK AND EASY ORDERS!
We can also take your credit card orders by your leaving a message at 732 602-3407
---
- SOMETHING TO WATCH OVER ME DEPARTMENT -

Third Man Theory of Otherworldly Encounters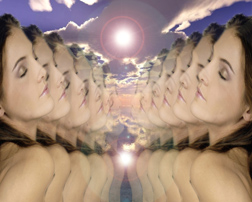 Encounters with otherworldly beings that lead us out of danger are more common than you think.

Charles Lindbergh felt it.

During that first solo, non-stop transatlantic flight in 1927, the aviator, flying just above the ocean, was desperately struggling to stay awake. Twenty-two hours into the trip, he became aware of vague forms aboard the Spirit of St. Louis. They offered reassurance and discussed navigational problems.

They stayed with him until he spotted the Irish coast, and Paris was within reach.

An avalanche in the Canadian Rockies swept climber James Sevigny 600 metres, breaking his back, scapula, arm, nose, teeth and tearing ligaments in both knees. When he regained consciousness, he saw his climbing companion was dead. He laid next to him to die.

But an invisible being urged him to survive, telling him what to do. The presence stayed with him while he painfully made his way to camp, where skiers found him.

On Sept. 11, 2001, overcome by smoke in a stairwell of the World Trade Center's south tower, money market broker Ron DiFrancesco joined others lying on the concrete floor, some slipping into unconsciousness.

"Get up!" a voice ordered DiFrancesco, who sensed a physical presence encouraging him. Descending the stairs again, he was blocked by fire. The being led him to dash through the flames. He raced down to the plaza; then the tower collapsed. But he survived, one of only four people to escape from above the 81st floor.

Some believe it's a guardian angel. Others say it's the brain's way of coping under great duress. Whichever, the experiences are eerily similar: the sense of a presence that encourages, advises and even leads a person out of peril.

"In every case I found, it was a benevolent helpful companion, not a single example of a malevolent being," says John Geiger, author of The Third Man Factor published this week.

He found more than 100 cases, including those accounts described earlier.

"They're people in a life-and-death struggle, often but not always in nature," he explains.

Among the examples: an American astronaut on the Mir space station, an Israeli soldier undergoing torture, an Austrian mountaineer on a Himalayan peak.

Toronto author Vincent Lam claims to have experienced the phenomena known as "third man."

Most know the being's gender, and a minority identify it as a deceased relative, friend or Jesus Christ.

Geiger, who has written several books about exploration, became fascinated by the otherworldly guardian after reading Sir Ernest Shackleton's accounts of his crew's horrific 1916 crossing of a south polar island, aided by an invisible being.

The phenomenon became known as the Third Man, writes Geiger, because that's how T.S. Eliot referred to it in his poem "The Waste Land."

Spiritual or religious people, no matter the faith, say they were helped by a divine companion, while agnostics see it as a brain function, Geiger says.

Scientific researchers have studied how the human mind might conjure the Third Man.

"Opinion is divided," says Geiger. "There's not a definitive explanation."

Some psychologists believe it's an example of bicameralism. Under stress, the usually dominant left hemisphere loses some hold over the mind, and logical thinking declines. The right brain, involved in imaginative thinking, intrudes, explains Geiger.

Another theory suggests the Third Man is a coping mechanism, a mental process for calming and separating the person from the horrible experience. "Just as we have a biochemical response to stress through adrenaline, this is a mental process that helps us survive."

But why do some people sense a wise helper, and others don't?

"There may be psychological variables," says Geiger.

"Some people may be more open to new things and experiences."

For some people, it may kick in at lower stress levels than others.

Young children's imaginary friends may be Third Man-like manifestations.

In studies of widows and widowers, says Geiger, between 30 to 50 per cent reported having felt the presence of the deceased partner.

Whether the Third Man is an angel or a survival mechanism is for people to decide for themselves, says Geiger.

"I can't solve that riddle. But it is very powerful and raises some profound questions."



Source:

The Toronto Star
http://www.thestar.com/living/article/579401
---
-STRANGE CREATURES FROM TIME AND SPACE DEPARTMENT -

Giant and Out-of-Place Reptiles in Oklahoma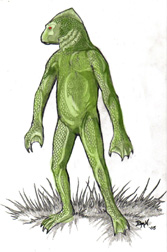 An ice storm, the flu, and a computer virus have kept me out of the blogsphere for a while—when it rains, it pours (and in this case it rains ice). But one good thing came out of trekking twice a day to the only outlet still serving food: about two days into the storm one of my fellow refugees approached me during dinner with a very strange story.

Adam Meirs of Kansas, Oklahoma (another in a long line of creative Okie names) had an encounter of the slithery kind in the summer of 2005.

Kansas is a small town in Delaware County, just off the Cherokee Turnpike. It has a population of 685, according to the last census. Meirs states:

"I was riding my four-wheeler at dusk behind my uncle's house where there's a lot of trees. Back behind his house there's a dip that leads to a pond that he also owns and before you reach the pond there's a turnaround point."

It was dusk, and Meirs began to get spooked. He continues:

"I turned around and right at the dip my four-wheeler immediately shuts off. I'm trying to pull-start it, and I started getting a little more freaked out because I heard some rustling off to the side. I look over and see a human-like shadow standing off to the side, but instead of being a normal human he had a snake-like head."

The being approached Meirs, who struggled more and more frantically to start his vehicle:

"I gave one final pull on the starter while pressing on the gas at the same time and my four-wheeler starts, and I haul out of there and go tell my friend Joe what I seen."

Joe took the four-wheeler and returned to the site, but headed back to the house after hearing a noise that "did not seem normal".

The most interesting thing about Meirs's snake-headed humanoid is the resemblance it bears to the Seminole tribe's "human snakes", legendary malevolent creatures that lived in dens full of giant snakes. I asked Meirs if he was familiar with the legend, and he said he was not. Human snakes are either half-snake half-human or can shape shift between the two.

Human snakes aren't the only breed of strange snake the Native Americans believe in. The Cherokee tribe tells of Ukena, giant horned reptiles that live in the water, and perhaps most interesting are the Creeks' tie-snakes, strong, dark snakes that live in caves alongside riverbanks and are capable of pulling unsuspecting humans to a watery death.

Of the forty-six species of known snake native to Oklahoma, only a few are aquatic, and none are powerful enough to prey on humans. The Western Diamond-backed Rattlesnake and the Coachwhip hold the title of OK's largest snakes, both clocking in just shy of seven feet long.

But could there be monsters hiding in the forests and lakes, as the Native legends hold?

Snake Creek, near Tenkiller Lake, appears to have been named for good reason. Edna Stubblefield recalls in the Stubblefield memoirs that sometime in the 1890s she and her family spotted a snake at the Creek that "looked like a big old fence post" crawling across the road.

A nine-foot Burmese python turned up in a Tulsa driveway, and on October 25, 2001, another Burmese python, this one seven feet long, appeared in a Stillwater neighborhood. And according to this article, more giant snakes may be on their way to Oklahoma.
http://newsok.com/article/3207429

While we're on the subject of out of place reptiles, how about rampaging alligators? The official range of the American alligator is restricted to extreme Southeastern Oklahoma, particularly Choctaw and McCurtain counties, and yet they just seem to keep turning up in other parts of the state.

In August 2002 a South American caiman, of all things, was netted in Lake Tenkiller. Another caiman, this one two to four feet long, appeared in a Tulsa backyard in February 2004. And in July 2006 animal control officers spent two days trying to capture a four-foot-long alligator that appeared in the Battle Creek Golf Course in Tulsa. The gator was never caught, and apparently vanished. (Note of interest—the Battle Creek housing edition was also home to another out-of-place creature in 2005—a "mountain lion" reportedly terrorized the neighborhood, preying on household pets. It was also never caught and eventually just faded away.)

And of course the strange case of the "fugitive" gator. In the summer of 2003 a 350-pound reptile dubbed the Truck Traveling Alligator was caught in a pond, sent to a breeder, and then sent to Safari Joe's, a wildlife sanctuary in Adair. The gator promptly vanished from its pen and reappeared in a pond just south of Interstate 44, and then turned up in yet another pond, this one behind the Big Cabin Truck Plaza, where he was finally recaptured. He was relocated to prime gator habitat in McCurtain County.

Granted, giant reptiles are nothing new to Oklahoma. The Sam Noble Museum in Norman hosts the world's largest Apatosaurus, 93 feet long, found in the Panhandle. And if that's not big enough for you, the world's largest dinosaur to date also once called Oklahoma home. In 1994 fossils that were first thought to be tree trunks were discovered. The "trunks" turned out to be neck bones, each four feet long. The sauropod the bones belonged to stood an estimated 60 feet and weighed 60 tons, and was dubbed Sauroposeidon—the "earthquake God lizard".

This monster went extinct 110 million years ago, but perhaps some of the God lizard's smaller cousins stuck around.



Source:

OK? Awesome!
http://cryptook.blogspot.com/2009/02/giant-and-out-of-place-reptiles-in.html
---
- COULDN'T GET PAST THE AGE DIFFERENCE DEPARTMENT -

Woman Who Married 300-Year-Old Ghost Calls it Quits

A Jack Sparrow impersonator who married the 300-year-old ghost of a Hatian pirate has called an end to their union citing concerns over spirits.

Amanda 'Sparrow' Large, 46, married the ghost who is also named Jack in January but has called it off, saying 'My marriage is over.'

The unlikely pair were wedded in international waters in a boat that sailed from Ireland so the marriage would be legal.

But according to the Mirror, Amanda wrote on social media: 'I will explain all in due course but for now all I want to say is be VERY careful when dabbling in spirituality, it's not something to mess with.'

During the ceremony last year a psychic said 'I do' for her 18th century ghost groom.

She claimed sex with a spirit was as fulfilling as sex with a physical human.

She said: 'It is well known that people often feel a spirit touch their hands, their face or their hair.

'The only difference with having a sexual relationship with a spirit is obviously that sense of touch goes a lot deeper.

'You can feel the weight of the spirit, their touch, the pressure.

'You can literally feel the physical act of what the spirit is doing to you, and the spirit can feel it too.'

But she has recently spoken to the Rainbow Project of her asexuality, saying that she 'grew up in a small village in Ireland and sexuality was totally taboo.'

The mother-of-five, who was married previously, said she had never felt a connection to anyone like the one she had with the ghost, who was left at the altar in his earlier life.

The Haitian pirate was put to death in his previous life.

Their doomed romance began in 2014, when she felt his presence, and eventually the pair began talking and got to know each other.

She explained, 'The more I learned about him, the more I liked him.'

In 2015, Amanda legally changed her name to Amanda Sparrow and spent over £4,000 turning herself into Captain Jack Sparrow, from the film Pirates of the Caribbean.

She made the transformation after watching the film franchise for the first time - when her 13-year-old daughter said that she was just like Johnny Depp's distinctive character.

Amanda has even got tattoos like the drunken sailor, and got pirate-style dreadlocks and gold-plated teeth in a bid to mimic the character. She set up her impersonator business off the back of the look.

Amanda, said: 'My daughter Carla Rose screamed in front of the TV 'Mum you are so much like Jack Sparrow!' and I was like - 'who is Jack Sparrow?'

'I settled down to watch 15 minutes with her because it was on Sky and I was instantly hooked.

'The way he gets on with life, his freedom and his walk is so much like me in personality - I'm quite masculine and have that sense.

'The way he deals with things is identical to me. I just really related to him.'

Her social media accounts refer to spirituality and to the LGBT community; to causes she is passionate about.



Source:

Daily Mail
https://www.dailymail.co.uk/news/article-6480071/Irish-woman-married-ghost-18th-Century-pirate-says-split.html
---
Sign up today for Bizarre Bazaar and Conspiracy Journal Magazines


Click on banner to sign up for two FREE magazines!
---
FRIENDS OF CONSPIRACY JOURNAL

DAYDRIFTER
"TALES FROM MIDDLE AMERICA"

---


Restricted Airspace with Tina Maria Caouette Friday's at 7:00PM PST
On KCOR Digital Radio Network
---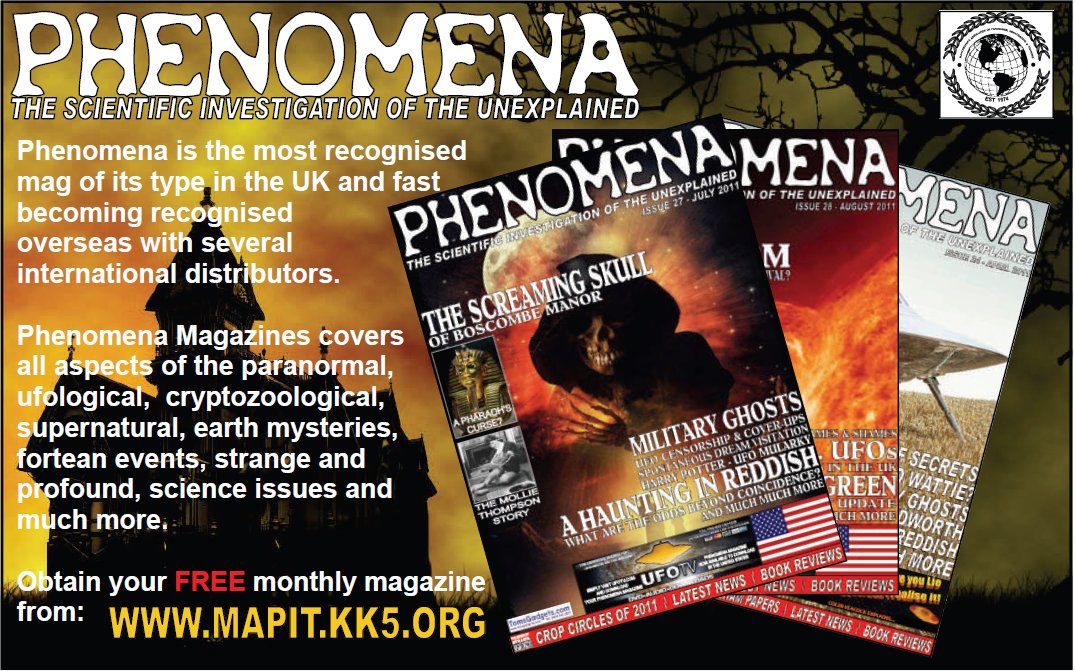 Free Issue of Phenomena Magazine
www.mapit.kk5.org
---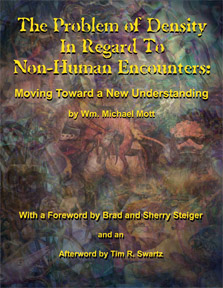 Wm Michael Mott - New Book Available on Kindle
---


UFO Digest
---
Conspiracy Journal - Issue 983 12/16/18
http://www.conspiracyjournal.com
Subscribe for free at our subscription page:
http://www.members.tripod.com/uforeview/subscribe.html