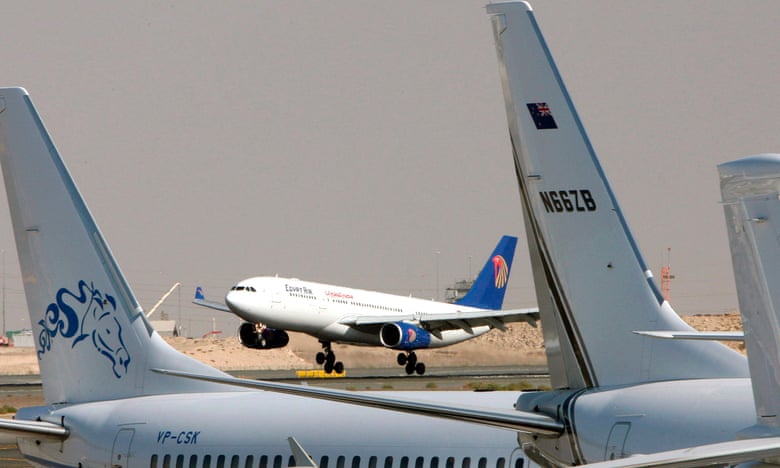 Egyptair confirmed one of its planes is missing.
Photograph: Ali Haider/EPA
What we know so far
Flight MS804, en route from Paris Charles de Gaulle to Cairo, has disappeared from radar.
EgyptAir says the plane's

emergency devices – possibly an emergency locator transmitter or beacon – sent a signal that was received at 4.26am local time

, two hours after the last radar contact.
The plane, an

Airbus A320

, left Paris at 11.09pm on Wednesday night (21.09 GMT/22.09 BST/07.09am Thursday AEST).
The airline said

contact was lost around 16km/10 miles inside Egyptian airspace

at 2.30am local time (00.30 GMT/01.30 BST/10.30 AEST).

The plane was carrying 56 passengers and 10 crew

: two cockpit crew, five cabin crew and three security personnel. The airline said two babies and one child were on board.
The airline said among the passengers were

30 Egyptians, 15 French, two Iraqis, and one each from the UK, Belgium, Kuwait, Saudi Arabia, Sudan, Chad, Portugal, Algeria and Canada

.

Search and rescue efforts are underway

at the site where contact was lost, around 280km (175 miles)

north of Egypt's coast. Greece has joined the search and operation.
The plane, on its fifth journey of the day, was travelling at 37,000 feet when it disappeared from radar.
EgyptAir says

the captain has 6,275 flying hours

, including 2,101 on the A320; the copilot has 2,766. The plane was manufactured in 2003.
French prime minister

Manuel Valls

says "no theory can be ruled out" in investigating the disappearance.
There is no detail yet on possible reasons for the plane's disappearance.
Updated
Emergency beacon 'detected at 4.26am'
The UK foreign office in London could not confirm reports that a British national was on board the missing the Airbus.
A spokeswoman gave this statement:



Following reports that EgyptAir flight MS804 has gone missing en route from Paris to Cairo, we are in urgent contact with the local authorities in Paris and Cairo to obtain further information.