Kim Dotcom talks exclusively with IBTimes UK about extradition, family life and what the future holds.
Kim Dotcom is an unlikely folk hero for the tech world – neither a preppy Ivy League grad in a suit, a hipster, nor a Silicon Valley-esque geek in a hoodie. Instead he resembles a bouncer for a Eurotrash nightclub with his perpetual uniform of black T-shirts, sleeveless fleece jackets, cap and sunglasses.
Kim Dotcom, 43, born Kim Schmitz in Germany, shot to fame during the dotcom boom and the launch of his file hosting site Megaupload in 2005 would change the course of his life. Once one of the biggest sites on the internet, it was shut down in 2012 with Dotcom accused of copyright infringement, money laundering and racketeering.
Still fighting against the US to extradite him to stand trial the case has now been going on for five years. Taking on a life of its own, it has dredged up issues over content ownership, digital privacy rights, inter-government relations, Hollywood's bargaining power with the White House, and the fight between technological innovation versus legislature.
Kim Dotcom talks exclusively to IBTimes UK about his legal fight, his life and times in New Zealand and what the future holds for the larger-than-life character.
For a while there, he had it all
Why are so many people fascinated by Dotcom? Perhaps it is the fact that for a long while, to many people it seemed that he was truly living the dream. When he was raided by the New Zealand police and the FBI in January 2012, Megaupload was the 13th most-visited website on the internet, with $175m (£141m) in revenue, 50 million daily visitors and over 150 employees in multiple countries.
Dotcom, married with five children, could afford to lease a mansion and a helicopter, as well as buying 12 cars, for $3.2m (£2.6m), and investing $10m into New Zealand in order to receive permanent residency.
And he wasn't discreet about his wealth – he flashed his money and lifestyle whenever the cameras were rolling and even attempted to start a music career, with music videos showing the "good life", featuring his huge yacht, jet skis, speedboats and ATVs, to say nothing of his ritzy launch parties complete with attractive bikini-clad glamour models and back-up dancers.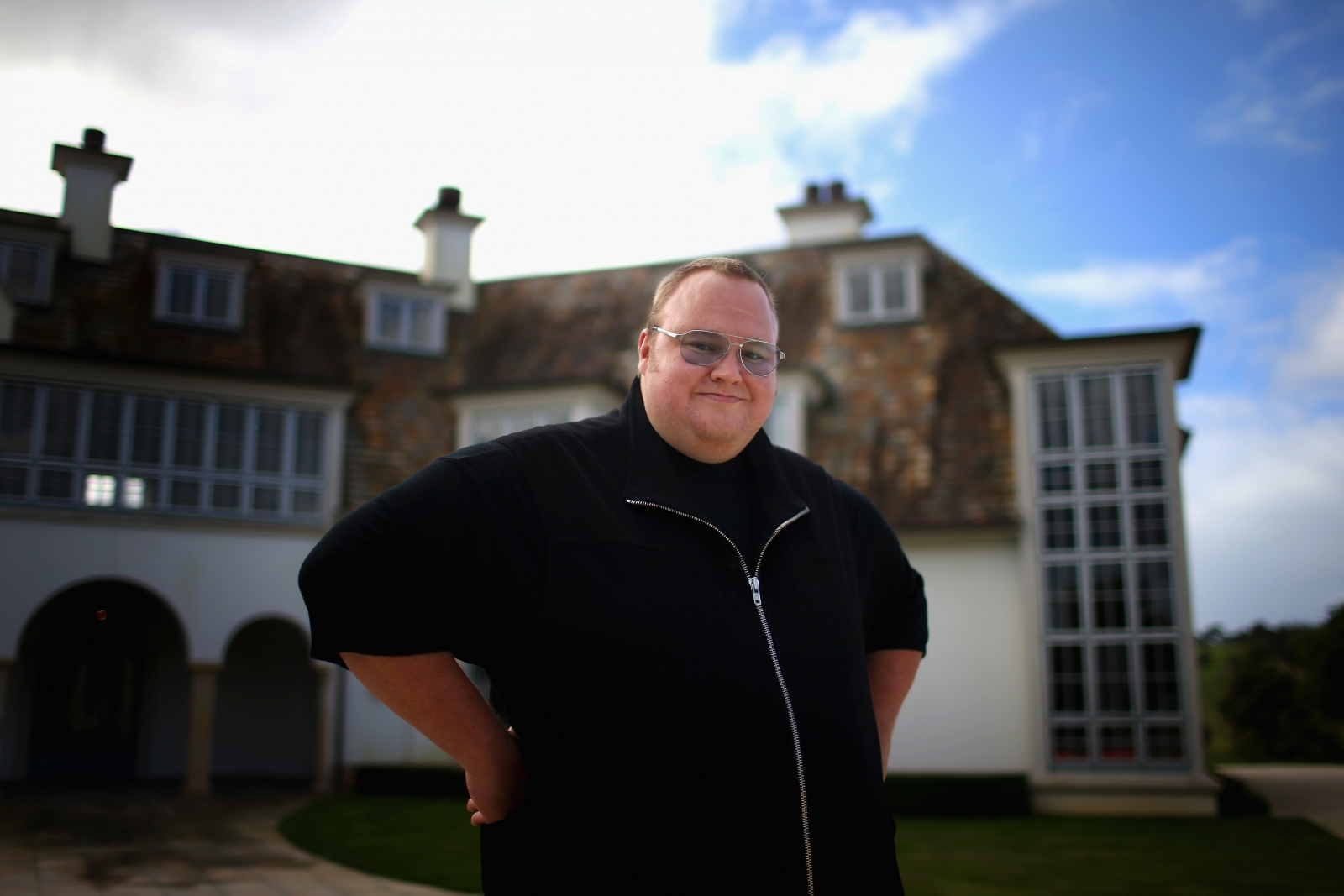 "When I was a kid in preschool, there was this thing where they made a magazine for the parents, and they asked the kids the question: what do they want to become when they are older? A lot of kids said fireman and doctor, and back then when I was still a baby, I said I wanted to be a millionaire," Dotcom tells IBTimes UK in an exclusive phone interview.
But fast forward five years and it's a different story. The raid saw most of Dotcom's assets seized. His businesses – a total of 14 websites including Megaupload; the Megabox music service (designed to divorce music artistes from record labels and allow them to collect most of their album sales); a photo hosting site for professional photographers; news sites; an oversized clothing line featuring designs by Dotcom himself – were all shut down.
Dotcom laments: "80% of my websites had nothing to do with copyright and it was all shut down."
In 2014, Dotcom complained that
he had run out of money
after spending $10m on his legal defence, but these days things are much better, though his lifestyle is nowhere near as luxurious as it once was. He has moved out of the mansion into a slightly more modest apartment, and he isn't paid for his work on his new businesses
Megaupload 2.0 and Bitcache
– the companies are held in a family fund where the only beneficiaries are his children.
"Thankfully I have $80m of assets sitting in Hong Kong and the Hong Kong court has agreed to release enough to pay my legal fees. The assets that were seized by the US in Hong Kong are enough to pay for my living expenses and legal fees. It's not as generous as before but I can pay my rent, my bills, my staff, my lawyers," he says.
"I can afford to do this work without being compensated, but I don't have enough budget to do things like flying my mother over, which is sad because my mum misses her grandkids, but it is costly to fly from Germany to New Zealand."
Daddy won't be going to jail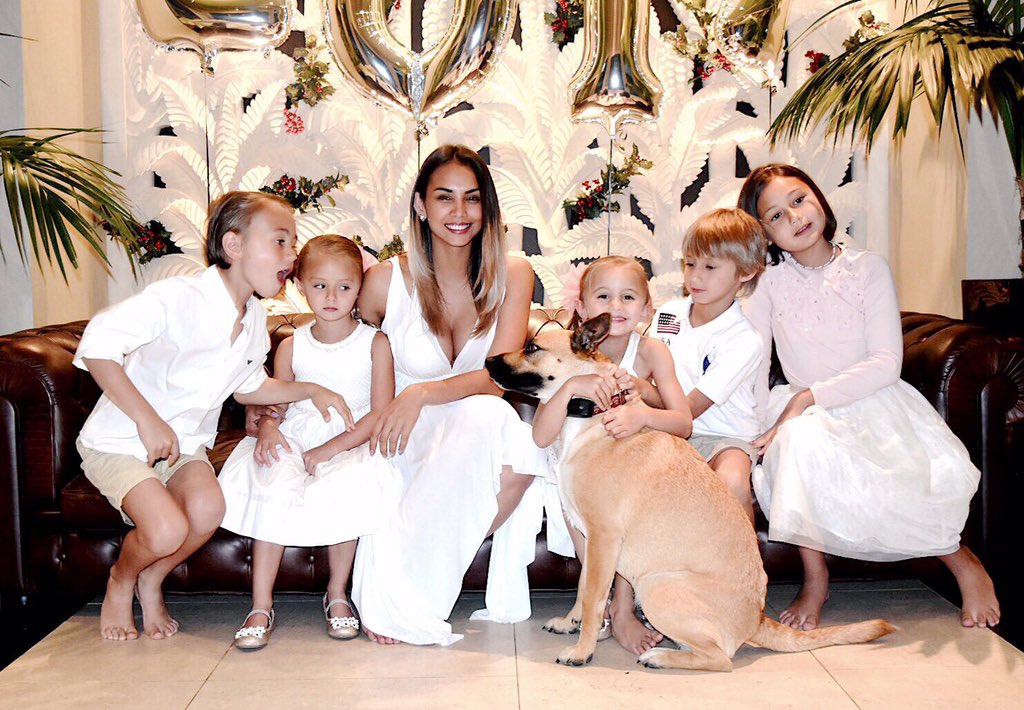 Dotcom has five children from his soon-to-be ex-wife Mona Verga, a former model from the Philippines. She is still in the picture, and Dotcom claims that he shares custody of the children with his ex without acrimony, and that both parents are present at all birthdays and holidays, as well as Dotcom's new fiancée
Elizabeth Donnelly
, 21.
Most interesting is the fact that Dotcom insists his children have no idea how much trouble he's in, even though the eldest child Kaylo, eight, does remember the
terrifying raid on the mansion
, which saw over 70 police officers, an armed SWAT team and four FBI agents swoop in on the property in a huge coordinated operation featuring land and air vehicles.
The raid was like something out of a movie – Dotcom and 14 other people, including his family, security guards, servants and bodyguards retreated into the mansion when the police got to the front gates. Dotcom activated a series of electronic locks, and when the police managed to neutralise the locking mechanisms, according to Dotcom he then barricaded himself inside a safe room and only opened the door after the police announced themselves.
"We shield them very well, they live in a very happy bubble, they do not have any fears. The oldest kids do remember the raid, but we have handled it in a playful way that it was just a game, it was just Daddy playing modern warfare so we could turn it into something they could process as not serious. They are happy children and they are not burdened by anything to do with my case. That's very important to me, probably the most important thing to me," explains Dotcom, adding that the children are all in private school and teachers monitor them to make sure they don't get bullied.
"They just know that daddy is really famous and they always remind him of that. They do sometimes catch my face on the news or just people when they go out with me, there are always a lot of people taking selfies with me, so they think I'm some sort of superstar, but they have no idea what it is about, which is quite funny."
A slam dunk to freedom
The latest update in the saga is that a New Zealand High Court judge has ruled that New Zealand has no copyright law equivalent to the US, and therefore the extradition treaty cannot be activated for that reason. Instead, the judge has ruled that Dotcom and his associates can still be extradited to stand trial to the US on fraud and racketeering charges.
But rather than being dismayed, Dotcom is now confident that his case will be thrown out, because the judge has accepted that
there is no criminal liability for online copyright infringement
in New Zealand.
"My legal team instantly saw this as a victory for us. We only have to prove to the higher courts that you cannot replace copyright law with common law statutes. The copyright act creates the copyright in the first place. If there wasn't a copyright act, no copyright would even exist. So in legal speak, copyright law is a sui generis law, you cannot apply common crime statutes like general fraud and replace it with copyright," explains Dotcom.
"Because copyright is not a usual property right, it has all kinds of limitations. You can use a private copy [of content], you can back it up, you can share it legally with your friends and family. Copyright is not what has been taken as what we know as property. it is a different type of statute that creates the copyright. The mistake the high court judge made is to say he can apply common rights law to a copyright case."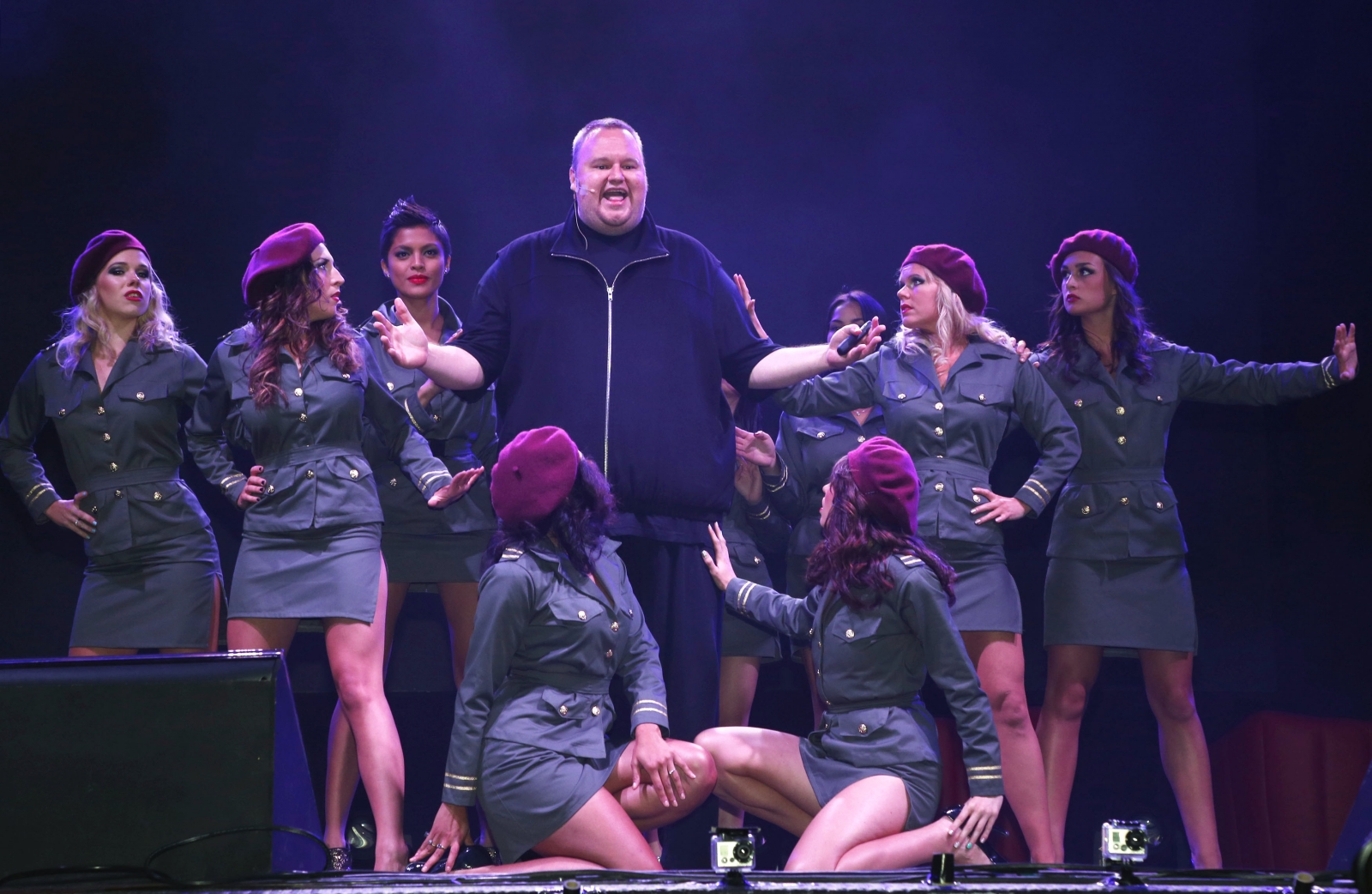 But could he have prevented this entire situation?
Overnight, a huge amount of links to free content disappeared from the internet, which Hollywood and the music industry counted as a success, but Dotcom maintains that many of Megaupload's users were using the website to back up business and personal files, and that his company never condoned copyright infringement.
"The obligation to find infringing content is the content owners'. It's not the internet service provider's (ISP). Whenever they submitted to us a takedown notice about infringing links, we took them down. We took down 30 million links in seven years. And we went even further – we gave over 150 copyright holders direct lead access to our servers, so for example if Warner Brothers saw a movie had been leaked onto the internet and was being hosted on Megaupload, they didn't need to go through us, they could go directly to our delete tool and delete the link immediately," says Dotcom.
"No other ISP in the world has ever offered this service. How much more can an ISP do? It's not the job of the ISP to police the internet. We would remove the link, which was the door to the file."
But knowing how angry Hollywood and the music industry were becoming however, might it not have been pertinent to delete the underlying files and ban the user accounts, to show a willingness to cooperate with authorities?
"It makes no sense to do that. If a user buys a song legitimately and then uploads it to the locker, and one person shares the link publicly, and the other person kept it private, you can't take the file down because you hurt the user who legitimately backed the file up. It is a common industry standard. No one is deleting the file, not Microsoft, not Dropbox," argues Dotcom.
"I do respect copyright. I think it's a fair balance between internet service providers and rights holders, and there should be monetisation for people who create content. What I don't accept is copyright extremism, where they stifle innovation and shut down websites to merely prevent any chance of copyright infringement."
Looking forward to a new future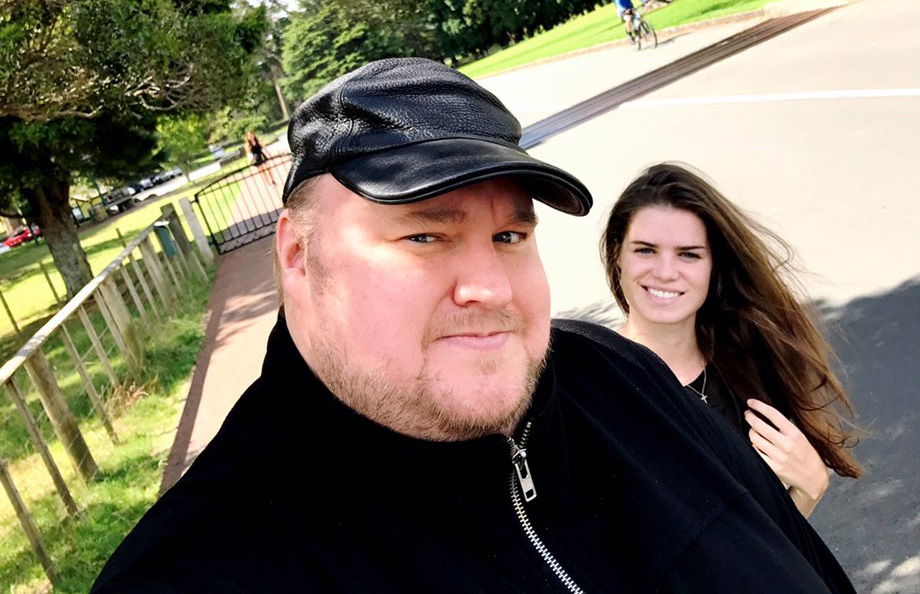 Dotcom is well known to dream big, and he's already thinking about what he's going to do once his case is thrown out. He hasn't been able to leave New Zealand for the last five years since his passport was seized after the raid, and he admits that he misses Germany and Hong Kong, where he had always intended to make his permanent home.
"I would rather go to Hong Kong. I'm also a citizen of Finland. I think it would be a great place for my kids, up on my list would be Hong Kong, Finland and then Germany. Of course my kids love it here in New Zealand, they have all their friends here, so our plan is to remain in New Zealand," he says.
"New Zealand does get a little bit small and boring. I do miss Hong Kong, it's a really vibrant city. I lived there for seven years and I had a lot of friends there, a lot of great business opportunities, I had a beautiful home there that I have lost. The best time of my life was in Hong Kong."
Despite his legal problems, Dotcom has continued to start new businesses, and he is at present trying to launch the co-operative cloud storage site Megaupload 2.0 as well as the Bitcache service, which aims to offer businesses and the media the opportunity to easily add bitcoin micro-payments to their websites in order to charge for content and internet-based services.
Unfortunately, the launch of the two services has been delayed due to the Canadian stock exchange preventing Megaupload 2.0 and Bitcache from merging with a publicly listed Canadian company in January, but Dotcom says that product development is on track and he expects to release a proof of concept in the next three months, together with a technical paper explaining the proof of concept.
Although research on Google will tell you that Dotcom has been in trouble with the law a lot in the past in both Germany and Hong Kong (see
Who is Kim Dotcom? A Timeline of His Life
),

in conversation he doesn't mention any of this.
However, when asked to describe himself to a stranger and why he is now "Kim Dotcom" rather than "Kim Schmitz", Dotcom replies: "I changed my name to Dotcom because the internet made me who I'm. It's my homage to the net. I'm always an optimist. [Although the dot-com bubble burst in 2001], every bust brings new opportunities.
"I'm a flawed human being. Just like everybody else."
This article was first published on February 24, 2017