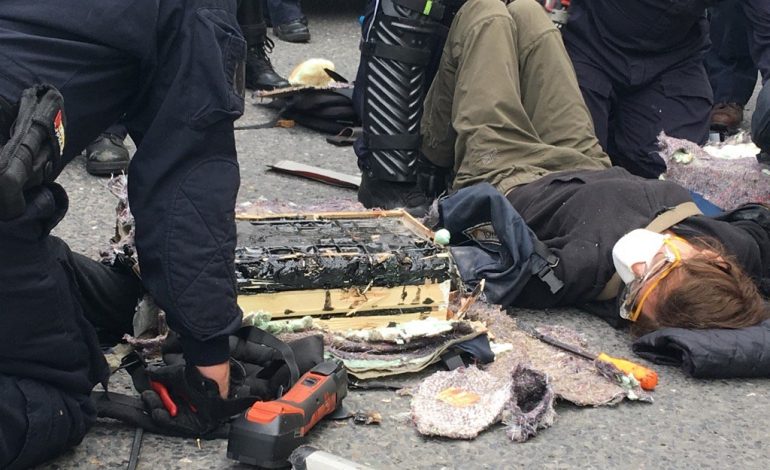 Preparations for one of the world's largest arms fairs have been halted by protesters. From 9am on 6 September, protesters have blockaded both entrances, preventing deliveries and stopping the fair from setting up.
Stop the Arms Fair

has organised the week of action to halt the Defence Security Equipment International (DSEI) arms fair before it starts. And judging by the number of protests over the first three days, it is a success.
DSEI
DSEI itself takes place between 12 and 15 September at the ExCeL Centre in East London. In 2015, arms dealers from 61 countries
queued
up to view the wares of 1,500 exhibitors. 14 of the countries invited, including Algeria and Bahrain, had authoritarian regimes. Four, including Saudi Arabia and Pakistan, have been listed by the UK as having human rights issues. And a further 11 countries on the list, such as Ukraine and Iraq, are currently at war.
London Mayor Sadiq Khan wants to see it
banned
from the capital. But he says he is powerless to stop it. Meanwhile, there is an eerie silence from the government over DSEI. Although this is perhaps not surprising. Because the event is
sponsored
by the Ministry of Defence and the Department for International Trade. And figures
show
that the UK has made 10 times more out of arms sales to Saudi Arabia than it has given in aid to Yemen.
Meanwhile, the Saudi Arabian-led
bombing
of Yemen continues. And so do the arms sales. Since 2015, the UK has
licensed
£3.8bn of arms to the regime.
Speaking to The Canary, Andrew Smith from

Campaign Against Arms Trade (CAAT)

stated:
"Saudi forces have killed thousands of people in Yemen, and have exacerbated one of the worst humanitarian crises in the world. Yet the regime is among those that are expected to fly into London next month for a government-sponsored arms fair."
Protests
But

Stop the Arms Fair

is trying to end the trade event before it begins. On Monday 4 September, activists from Stop Arming Israel held
protests
at both gates. There were several arrests as protesters managed to block roads and get underneath trucks.
On 5 September, a

'No Faith in War'

event was
held
. Actions included Quakers, who abseiled from a bridge to prevent traffic getting to the site:
And on 6 September, on
No to Nuclear Day
, groups took part in rolling blockades throughout the day at both entrances.
Some people locked themselves together to make it harder for the police to move them. One blockade featuring boxes inside rucksacks proved difficult for the police to remove protesters. And it was several hours before they were all arrested:
And as soon as one blockade finished, another started:
In fact, the police cutting teams who were removing the activists were so busy they had to take a break to recharge their power tools. At the time of writing,

18

people had been arrested.
Take action
Protests against DSEI are taking place throughout the rest of the week, including a Big Day of Action on Saturday 9 September. And as one protester previously
told
The Canary:
With decent numbers, and using a diversity of tactics, it's likely we could significantly disrupt the arms fair this year. With enough numbers, we could shut it down.
None of us have to put up with this trade in death and destruction. And we can do something about it. Come down to the ExCeL Centre and show the arms dealers and the government that we won't let them continue selling their murderous wares.
Get Involved!
–
Join
the week of action against DSEI organised by Stop the Arms Fair.
–
Support
CAAT and find out more about the arms trade.
–
Donate
to the CrowdJustice appeal to support the legal costs of two activists who attempted to disarm a war plane bound for Saudi Arabia.
source

:
https://www.thecanary.co/2017/09/06/dozens-arrested-london-one-worlds-largest-arms-fairs-locked/