A police firearms officer denies assault during the raid in 2015
A Met Police firearms officer beat up an innocent man during a raid at a Docklands apartment because he believed he had been lied to, a court heard.
Pc Adrian Daly, 46, is alleged to have punched and kicked Jonathan Spencer while he was handcuffed and naked apart from a duvet.
The officer believed Mr Spencer had lied about the occupants of the apartment during the 5am raid.
Daly allegedly said to Mr Spencer: "You don't f***ing lie to the police" [lolol...ed.], Southwark crown court heard.

Daly, of Tower Hamlets, denies assault occasioning actual bodily harm in 2015.
Mr Spencer, his girlfriend Daniella, and a flatmate called Natalie came out with their arms raised when police forced their way in searching for a murder suspect.
Daly told investigators he spoke to Mr Spencer "about lying to the police" but did not attack him. The trial continues.
source: https://www.standard.co.uk/news/crime/met-police-firearms-officer-beat-up-innocent-man-during-raid-at-flat-a3638206.html
Related:
SHOCKING
!!
A police officer being investigated over the death of a man in east London has not been suspended, the Met Police has said.
Rashan Charles, 20, died on 22 July after being apprehended in Dalston.
The Independent Police Complaints Commission (IPCC) said the officer had been placed on restricted duties, meaning he has been removed from work that involves contact with the public.
Mr Charles' family said they were ""disappointed" with the decision.
In a statement, the family said:
"This decision sends completely the wrong message about how seriously the Metropolitan Police take what happened to Rashan and we call on them to reconsider.
"We are disappointed and concerned that the simple reality of what is seen in the recording has not been translated into prompt and effective action by the police, CPS and IPCC: to suspend this officer and to investigate him as a suspect in possible criminal offences, as well as for gross misconduct.
"We will continue to press for this."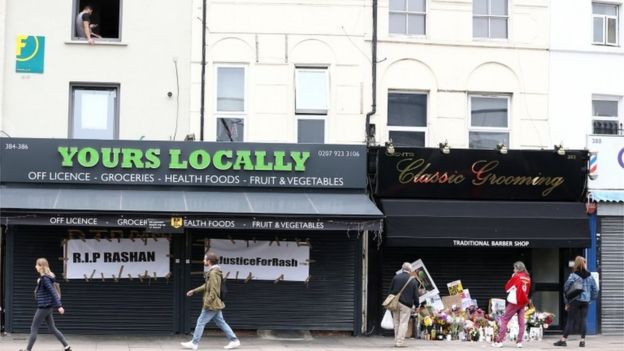 The decision to place the officer on restricted duties was taken by Deputy Assistant Commissioner Richard Martin following "very careful consideration of the matter", the Met Police said.
Mr Martin said he fully understood the strength of public feeling about "the tragic death".
"I have carefully considered the IPCC's representations and the views of key partners in making my decision", he said.
"The officer concerned will be office-based and have no direct contact with any member of the public whilst the investigation is ongoing.
"As always, the serving of a notice by the IPCC does not mean that misconduct has been proven against an officer."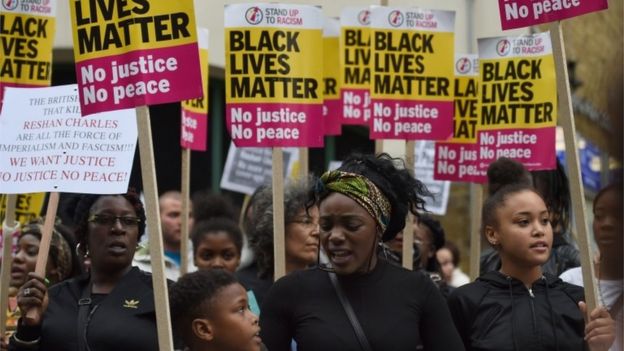 The watchdog previously said it had found attempts were made to remove an object from Mr Charles' mouth or throat after he was restrained.

The package was later revealed to contain a mixture of caffeine and paracetamol.

The 20-year-old's death led to angry clashes in Hackney with protesters throwing fireworks and bottles at riot police.

A full inquest into Mr Charles' death is expected to be held in front of a jury next June.

source: http://www.bbc.co.uk/news/uk-england-london-41334902

more:

OUTRAGEOUS!!




Tomorrow, Wednesday, 20th September, both Deputy Leader Jayda Fransen and I will be forced to return to a Kent police station to find out if we are going to be prosecuted for exposing a migrant rape gang.
Please watch the explosive video below which explains the whole saga:
I have one question for you: Will you stand shoulder to shoulder with us against the police bullies?
All we are asking is that you join Britain First and take your place in the 'Shieldwall' of our movement.
Jayda and I are depending on you to finally take the plunge and use one of the buttons below to help us:

THE RESULT? -
On Sep 20, 2017 4:15 PM, "Britain First" <
emails@britainfirst.org
> wrote:



Today, at a police station in Kent, both Deputy Leader Jayda Fransen and I were charged with "harassing" a gang of migrant child rapists.

Jayda has four charges and I have three charges.

We are bailed to appear in court on October 17th.

To our utter dismay, the very people we are alleged to have "harassed" are the same individuals who gang raped a 16-year-old English girl!

These monsters have now been convicted and sent to prison for fourteen years, but the police are still intent on prosecuting me and Jayda!

You literally couldn't make it up!

The news of our prosecution has already gone viral: So far, the Daily Mail, Sky News, the Metro, the Guardian, the Independent and others have reported on it and it is trending on Twitter!

Then, to add insult to injury, we are bailed with conditions that prevent us from taking part in any protest in the county of Kent and we have to sign on every Saturday at a London police station!

The police did this knowing full well we have a big public protest march planned for Saturday 14th October.

Needless to say, we are launching an immediate challenge to these ridiculous and restrictive bail conditions - hold tight for more updates on that one!

Jayda and I now have to mount a legal defense against these charges and for that I need your help JOHN-BUTLINCAT.

We only have until the 17th of October to get our act together so we need your help now!

Every penny counts, even if you can chip in £10 it would help enormously and would provide the 'firepower' we need to fight back against the police bullies!

Can me and Jayda depend on you my friend?

Please chip in by clicking on the button below:

Paul Golding
Leader, Britain First