TO THE STARS : DISCLOSURE WHETHER THEY LIKE IT OR NOT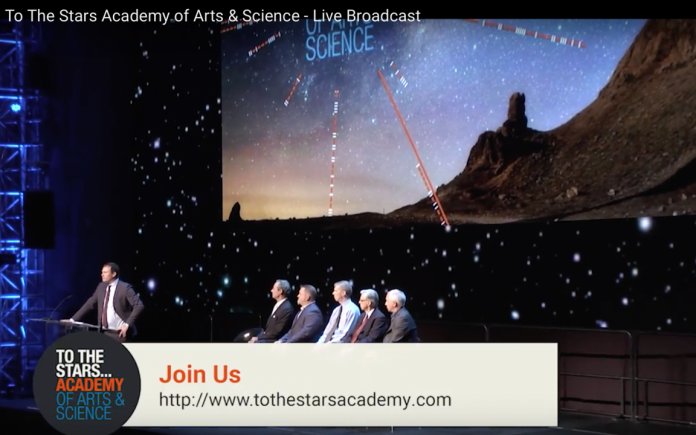 This new effort by

Tom DeLonge

and a high profile team of scientists, intelligence agents and aerospace engineers to disclose the truth about UFOs and ETs focuses on the technology. This is a predicable effort which is better late than never. And if it wasn't for the disclosures of Captain Mark Richards revealing that Reptilians are forcing disclosure you probably would think this was coming out of the well intentioned hearts of the team on stage in this video. See below for actual quoted text**.
But the truth, as usual, is more complex. Be aware that when certain ET / extra dimensional entities are pushing disclosure because they believe it will create chaos, the humans have no choice but to try to get people up to speed with the truth before that happens. This is the effort you are witnessing. To the Stars Academy is for beginners, newbies and those in denial about whether we are "alone". While for young people with good intuition and awareness this effort is rudimentary. For those in denial and those who are completely lodged in the 3D reality.. where seeing is believing, this will be a beginning.
My advice guys, not that you asked, is to reformulate your message to be more clear about who you really are and what you want. Fishing for more ufo reports from the masses is not gonna get it done by the way... In case you haven't noticed UFOs and Abductions have been and are being reported daily on Youtube. Don't act like this is the 1960s... come on everyone knows we are not alone. It's the secrecy you are trying to break through and pretend it's all gonna be different. You are a good potential team but you need to lead with more than some half-assed ufo encounter. Did I hear one of you say "Maybe were not alone"? Really? You are going to have to do better than that or you will all disappear into the dust of history in the making.
SO CALL IT A SECRET MACHINE OR AERIAL THREATS, UFOS ARE REAL.

SOFT

DISCLOSURE IS HERE NOW...
Quote from Mark Richards VII: Total Recal VII:
..."
DISCLOSURE / ALEPPO / REPTOIDS PUSHING DISCLOSURE?

I asked him more about status on the Reptoids pushing disclosure, which he had mentioned in my prior interview?
The progress — what are they building near Aleppo?

A stargate.

To bring troops and craft into this dimension.

He says they have aircraft carrier sized craft and can bring 5,000 troops in at a time.
But he also said they can take back 30,000 to 40,000 human prey, dead or alive... He said they trade human slaves to other races -- it's one of their "businesses".
He thinks they have been dealt with for the time being due to battles with them.

At least at this location."--Kerry
source:
https://projectcamelotportal.com/2017/10/16/to-the-stars-disclosure-whether-they-like-it-or-not/
Top UFO Researcher talks Tom DeLonge, Steven Greer and evil aliens
AS MENTIONED IN THE ABOVE 1st VIDEO: ARTICLES PERTAINING TO "NIMITZ UFO 2004: THERE I WAS" - see the 3rd link down:
www.openminds.tv › Featured
6 days ago -

And three, there are things that are so unimaginable that certain .... you can find on the web by searching on

Nimitz UFOs 2004 there I was

.
https://www.huffingtonpost.com/.../fmr-manager-of-dod-aerospace-threat-program-uf...
6 days ago -

"We believe

there

are discoveries within our reach that will .... He presented an overview of a

2004

incident involving the battleship USS

Nimitz

...
https://fightersweep.com/1460/x-files-edition/
14 Mar 2015 -

I had never given aliens or

UFOs

much thought. ... On the morning of 14 November

2004

, Dave and his WSO launched into the clear blue ... before setting off to

their

assigned work area in the open ocean south of USS

Nimitz

.
www.dailystar.co.uk › News › Weird News
3 days ago -

SIGHTING: A

UFO

that encountered the USS

Nimitz

... The truth is out

there

, these rare photographs of

UFO

sightings date back as far as 1870.
www.lasvegasnow.com/news/i-team-public-company-launched...ufos/833004610
6 days ago -

I-Team: Public company launched to investigate

UFOs

... On a sunny day in

2004

off the coast of San Diego, the USS

Nimitz

battle group ....

There

were also hints of a possible partnership in which government photos and ...
www.fsr.org.uk/fsrart4.htm
And

there

were also many other

UFO

sightings in Western Europe on that same day during the NATO exercise. .... The sensational shots of a silver space-ship on the USS

Nimitz

were taken in 1989, but hushed up by the Bush ... FSR

2004

.
https://en.wikipedia.org/wiki/USS_Nimitz
USS

Nimitz

(CVN-68) is a supercarrier of the United States Navy, and the lead ship of her class. ... February

2004

to August

2004

– Planned Incremental Availability – catwalk grating was replaced and flight deck resurfaced. .... new home port of NAS North Island in San Diego, California, arriving

there

on 13 November 2001.
https://en.wikipedia.org/wiki/Operation_Highjump
Operation Highjump, officially titled The United States Navy Antarctic Developments Program, .... In December

2004

, an attempt was made to locate the remains of the plane.

There

are ongoing efforts to repatriate the bodies of the three men killed in the crash. Some time after December 30, 1946, Vance N. Woodall died ...
www.dailymail.co.uk/.../What-military-planes-chasing-Mystery-surrounds-images-tw...
21 Jan 2016 -

In

their

latest bizarre sighting, alien hunters claim to have spotted a

UFO

(top left) being followed by military aircraft in Bulgaria, Images ...
https://twitter.com/UFOChronicles/status/918534925250453505
5 days ago -

UFO

News: Current and Historic Reports From Around The World .... and Photographed Over USS

Nimitz

https://goo.gl/fb/YzEV9D #

2004

#aavs ...