Tom Delonge's 4 hour C2C AM RADIO presentation March 2017:
C2CAM
2017's Top UFO Stories

[Pentagon admits to secret $22m (£15m) UFO programme]
2017 has been another exciting year for UFO activity and news. In the first half,
Alejandro Rojas
, UFO expert and researcher, joined George Knapp to discuss UFO activity from the last 12 months, as well as the
recent startling announcement
about the Pentagon's program to study UFOs, which ran from 2007 to 2012. This past year has been a chance to connect some of the dots in the UFO mystery, said Rojas, whose organization Open Minds, named Tom DeLonge as the "UFO researcher of the year." An associate of DeLonge's at his new To the Stars Academy,
Christopher Mellon
, called in during the first hour. Mellon had been an insider on classified projects and was instrumental in the just-published
New York Times
coverage of the Pentagon's UFO program.
One of the fascinating revelations about the Pentagon's program is that they collected metals and other materials recovered from unidentified aerial phenomena. The study of these materials has the potential to advance technologies or develop new ones, Rojas commented. In looking back at 2017, he cited some of the more notable stories: the Chilean UFO footage (which turned out to be an ordinary plane), the UK government's release of UFO files, the actor Kurt Russell's admission that he saw the Phoenix Lights while he was piloting a plane, and an update on the mysterious WOW signal.
Area 51 Revealed
In 1955, the CIA established a clandestine base of operations in the Nevada desert called Area 51 with a mission to protect the US from a growing communist threat. Special projects there were shrouded in mystery, and before flying saucers were rumored, the world's most famous spy plane, the U-2, was fueling rumors and legends for decades. In the latter half, author and Area 51 veteran TD Barnes shared some of his first-hand stories, as well as formerly classified info about the secret technology at the base. He played an important part in taking apart and putting back together the first Soviet MiG plane ever acquired by the US.
During this Cold War era, the U-2 program was more highly classified than the atomic bomb, he noted. There was intense security for employees such as himself-- he often did not know what co-workers were working on, and was not allowed to tell his wife the specific nature of his work until 2009. Barnes worked on the A-12, the military's first stealth plane, and revealed that a variety of concept planes were flight tested out of Area 51 like the unusually shaped Aurora, though these vehicles typically did not become operational. As to current activity at the base, he suggested that craft now were mostly unmanned and subsonic.


RELATED ARTICLES
Knapp's News 12/17/17
George Knapp shares a number of items that have recently caught his attention, including a piece in the NY Times about a secret Pentagon program that invesitigated UFOs:
On the Trail of a Secret Pentagon U.F.O. Program - N.Y.Times
Our readers are plenty interested in unidentified flying objects. We know that from the huge response to our front-page Sunday article(published online just after noon on Saturday) revealing a secret Pentagon program to investigate U.F.O.s. The piece, by the Pentagon correspondent Helene Cooper, the author Leslie Kean and myself — a contributor to The Times after a 45-year staff career — has dominated the most emailed and most viewed lists since.
So how does a story on U.F.O.s get into The New York Times? Not easily, and only after a great deal of vetting, I assure you.
The journey began two and a half months ago with a tip to Leslie, who has long reported on U.F.O.s and published a 2010 New York Times best seller, "UFOs: Generals, Pilots and Government Officials Go on the Record." At a confidential meeting Oct. 4 in a Pentagon City hotel with several present and former intelligence officials and a defense contractor, she met Luis Elizondo, the director of a Pentagon program she had never heard of: the Advanced Aerospace Threat Identification Program.
She learned it was a secret effort, funded at the initiative of the then Senate majority leader, Harry Reid, starting in 2007, to investigate aerial threats including what the military preferred to call "unidentified aerial phenomena" or just "objects." This was big news because the United States military had announced as far back as 1969 that U.F.O.s were not worth studying. Leslie also learned that Mr. Elizondo had just resigned to protest what he characterized as excessive secrecy and internal opposition — the reason for the meeting.
She spent hours with him reviewing unclassified documents, for the $22 million program operated largely "in the white" (that is, not under special restricted access), but hidden in the huge defense budget, with only parts of it classified. A few days later Mr. Elizondo and others there — including Harold E. Puthoff, an engineer who has conducted research on extrasensory perception for the C.I.A. and later worked as a contractor on the program, and Christopher K. Mellon, a former deputy assistant secretary of defense for intelligence — announced they were joining a new commercial venture, To the Stars Academy of Arts and Science, to raise money for research into U.F.O.s. Leslie wrote it up for the Huffington Post with scant details of the program.
I had known Leslie for years, and she told me this looked like a story for The Times. I agreed. Leslie and I met with Mr. Elizondo in Philadelphia on Oct. 31. Three days later, I emailed the executive editor, Dean Baquet, about "a sensational and highly confidential time-sensitive story" that I said "involves a senior U.S. intelligence official who abruptly quit last month" exposing "a deeply secret program, long mythologized but now confirmed."
He alerted Mark Mazzetti, the investigations editor in the Washington bureau. Leslie and I briefed him in New York on Nov. 7. We assured him there were no anonymous sources; everyone was on the record. After discussions in Washington and New York, Helene joined our team. The Washington bureau chief, Elisabeth Bumiller, would be our editor. On Nov. 17, we three met Mr. Elizondo in a nondescript Washington hotel where he sat with his back to the wall, keeping an eye on the door.
Carl Hulse, The Times's chief Washington correspondent, was well acquainted with Mr. Reid and helped arrange an interview for Helene. She flew to Las Vegas on Dec. 5 and met with the former senator, who confirmed the program with details, saying, "I'm not embarrassed or ashamed or sorry I got this going."
Leslie interviewed the aerospace magnate Robert Bigelow, who also confirmed his participation, saying Americans were being held back from serious research into U.F.O.'s by "a juvenile taboo." And I interviewed a prominent skeptic for perspective.
It was important that we not take anything on faith. This field attracts zealots as well as debunkers, and many Americans remain deeply skeptical that the phenomenon exists as popularly portrayed. In draft after draft, we took pains to let the investigation speak for itself, without bias.
Helene met with a Pentagon spokesperson on Dec. 8 for a response to the information we had gathered. The answer came swiftly. There had been a program to investigate U.F.O.s, but it ended in 2012 after five years, the Defense Department insisted.
Our reporting suggested it continues, largely unfunded, to the present. And that's what we wrote.
-------------------------------------------------------------------------------------------------------------------------------
Thursday, December 21, 2017
Bad UFOs: Skepticism, UFOs, and T
he Universe
Reflections on UFOs, skepticism, and practically anything else by Robert Sheaffer, author of the book "Bad UFOs," plus the "Psychic Vibrations" column in The Skeptical Inquirer).
The program collected video and audio recordings of reported U.F.O. incidents, including footage from a Navy F/A-18 Super Hornet showing an aircraft surrounded by some kind of glowing aura traveling at high speed and rotating as it moves (emphasis added).
An image from the "Groundbreaking" Chilean UFO video promoted by Leslie Kean in January 2017, later shown conclusively to be a distant jet aircraft. Kean's Chilean "expert" labeled the object's "envelope" (envoltura).



An infrared photo of John Lester Miller
I figured that these "auras" were almost certainly some kind of image processing artifact, a possibility that seems not to have occurred to the Pentagon "experts." So I consulted John Lester Miller of Cascade Electro Optics, the guy who literally "wrote the book" on Infrared Imaging. He had helped me investigate the Infrared UFOs that turned up in a video over the Bay of Campeche, Mexico in 2004, which turned out to be distant flares from burning oil wells. When I asked Miller what those "auras" might be, he replied,
I know exactly what the glowing aura is....it is a common image processing artifact called "ringing"....Frankly, I'm surprised the ATFLIR has it, we worked hard at [my previous company] to mitigate/eliminate this artifact. When in "white Hot" you will see that the aura around it is dark, and when in Black hot, it is brighter than the background. This is the image processing algorithm compensating for the large signal on neighboring pixels where the signal is not there, the algorithm doesn't know the shape of the object, and over-processes the neighboring pixels. Very common when an object (like jet engines) are images over a cold background (like high altitude clouds).
So when various UFO "experts" talk about a "glowing aura" surrounding the objects, they are in fact admitting, "We don't know anything about infrared imaging, and we did not consult with anyone who does."

Miller says that the objects are likely distant jet aircraft, but we can't see them clearly enough to be sure. Which is itself an interesting question - why is the quality of these videos so terrible?
What perplexes me (and is telling) is why all these IR UFO videos have such lousy quality. Modern IR images look like Hi Def black and white TV. All of these are out of focus, need uniformity correction and generally are crap. We should be able to make out a shape and even count the engines, or see landing gear if deployed. A sales guy would never show a prospective customer anything like these.
Very good observations, indeed! Why are there no good, clear infrared images of UFOs, in sharp focus?

One of the two Infrared videos recently released by the Pentagon is labeled by DeLonge as the "Gimbal video." He writes that "The filename "GIMBAL" seems to be traceable to the unusual maneuvering of the UAP," thereby proving that he has no idea whatsoever what he is talking about. Miller explains that "Gimbal is just a generic term for any electo-optical system (infrared, visible or laser) that has a two dimensional pointing mechanism."
---

In the days since that New York Times story burst on the scene, attention is starting to turn to the following puzzling lines in that story:
Contracts obtained by The Times show a congressional appropriation of just under $22 million beginning in late 2008 through 2011. The money was used for management of the program, research and assessments of the threat posed by the objects.

The funding went to Mr. Bigelow's company, Bigelow Aerospace, which hired subcontractors and solicited research for the program.

Under Mr. Bigelow's direction, the company modified buildings in Las Vegas for the storage of metal alloys and other materials that Mr. Elizondo and program contractors said had been recovered from unidentified aerial phenomena.

Bigelow's company modified buildings in Las Vegas for the storage of artifacts gathered from UFOs? That does not seem to be possible, but that is exactly what the Timesstory says. How many tons of alleged UFO artifacts must Bigelow have to need to modify buildings to store it?

Speaking of alleged UFO artifacts in Las Vegas, I wrote in my Psychic Vibrations column (Skeptical Inquirer), January/February, 2013, concerning a UFO discussion panel held at the The National Atomic Testing Museum in Las Vegas. They had a special exhibit on "Area 51."
During the question and answer session, Las Vegas skeptic John Whiteside asked about the supposed "authentic alien artifact" in the Area 51 exhibit. The moderator referred the question to reporter George Knapp, in the audience, who (scandalously) was the source of that "artifact." Knapp has made a career out of reporting on weird stuff like alleged saucers at Area 51, Robert Bigelow's Haunted Ranch in Utah, etc. Who had verified that supposed artifact? The Russians, and others. Who exactly? No answer. The moderator encouraged the two to take the discussion off-line afterwards. Immediately after the close of the questions, Whiteside says he was approached by Jim Brown who identified himself as the Acting Director of the Museum. Brown berated him for asking such a question, claiming that it threatened their funding. If a Museum's funding is threatened by asking a legitimate question, the fault lies not with the questioner, but with the Museum. Whiteside went looking for Knapp after this, no more than five minutes later, to find that he had quietly slipped out the door.
I'm thinking it's very likely that this was one of the same "UFO artifacts" that Bigelow had. If so, one would scarcely need to modify any buildings to house it.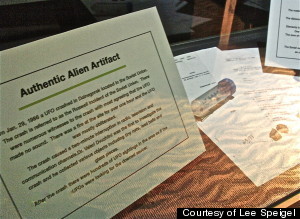 Lee Speigel's photo of the supposed "Authentic Alien Artifact" in the Area 51 exhibit of theNational Atomic Testing Museum in Las Vegas.

Following up on my comments in the previous posting that MUFON board members apparently did not know that Bigelow was in essence funneling federal dollars to them (lord knows that Bigelow has enough spare dollars of his own), the following has come to light. In 2011 former MUFON director James Carrion wrote,
Mr. Bigelow did not fund MUFON's work for BAASS, instead "sponsors" that Bigelow revealed to John Schuessler but not to the other MUFON Board Members put up the money.
We can now conclude quite definitely that the unnamed "sponsor" was in fact the federal government. Carrion also wrote,
John Schuessler, MUFON Board Member and former International Director was offered a U.S. government security clearance allegedly related to his consulting work for Mr. Bigelow. Now whether John was actually given that clearance, I can't say for sure, but I was one of the people interviewed as part of his background investigation.
From which we can reasonably conclude that John Schuessler did know that MUFON was receiving federal funding through Bigelow, but other MUFON officials did not.16 comments
more:
Five reasons to be skeptical about that New York Times UFO story – 20/12/2017
---
Posted: 20 Dec 2017 11:00 AM PST
Show info - http://www.coasttocoastam.com/show/2017/12/19
________________________________________________


**Alternate Youtube launcher by hour for mobile devices**
For details on show hours, click the 'show info' link above