.
In a world where information is the hard currency of power, those who attempt the Promethean task of informing common citizens of the real machinations of governments and political leaders risk becoming pariahs of the countries that control the flow of information. They tend to be the very same countries presenting themselves as bastions of democracy while paying lip service to freedom of expression. We spoke to Julian Assange's solicitor, Jennifer Robinson, and to the former Consul at the Ecuadorian Embassy in London, Fidel Narváez, about the origins of Wikileaks and the convoluted and prolonged legal case against its founder. With Juan Toledo and Andre López Turner
source:
https://www.podomatic.com/podcasts/ztradio/episodes/2018-10-20T10_33_10-07_00
Ecuador likely to turn Assange over to US – ex-President Correa to RT
Read more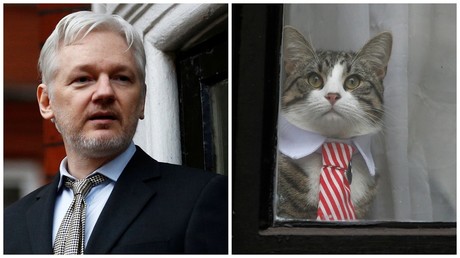 "I believe they are going to turn over Assange to the US government," Correa, who was leading the Latin American country at the time when it granted the WikiLeaks co-founder asylum, told RT, calling the policy of the current Ecuadorian government "a shame."
"The Ecuadorian state has to protect Assange's rights, he is not just an asylum [seeker]; he is a citizen," Correa said. Granted Ecuadorian citizenship back in 2017, Assange is now supposed to be protected by the Ecuadorian constitution. But the current government is too desperate for Washington's favor, Correa believes.
The WikiLeaks co-founder might be a bargaining chip in an agreement between the Ecuadorian authorities and US Vice President Mike Pence, who visited the Latin American country and met with President Lenin Moreno earlier this year.
Quito's behavior shows that it has "absolutely submitted" to Washington without actually earning any favor, Correa said.
His comments came a week after two US lawmakers called on Moreno to "hand Assange over to the proper authorities," calling him "a dangerous criminal and a threat to global security."
In the
letter
, representatives Eliot Engel (D-NY) and Ileana Ros-Lehtinen (R-FL) spoke about the US willingness
"to move forward in collaborating"
with Moreno's government, mulling enhanced economic cooperation and development aid from the US. They portrayed Assange as an obstacle on the way to a bright future together for the two nations.
The lawmakers said that they were "particularly disturbed to learn that your government restored Mr. Assange's access to the Internet."
Assange has been living in the Ecuadorian Embassy in London since June 2012 in an effort to avoid being extradited to the US over the publication of thousands of classified US diplomatic cables. He fled to the embassy after skipping bail in the UK.
In March, Ecuador cut off Assange's communications after he discussed tensions between London and Moscow and Catalonian separatism on social media. His internet and mobile phone access were partially restored earlier this month. However, Ecuador also laid out a "Special Protocol" to Assange, which made "Assange's political asylum contingent on censoring his freedom of opinion, speech, and association," according to WikiLeaks.
WikiLeaks lawyer Baltasar Garzonis is expected to launch a case against Ecuador later this week by accusing it of violating Assange's "fundamental rights and freedoms."
"They try to humiliate Assange but only humiliate themselves," Correa told RT. "These rules really go against the human rights. They are trying to isolate Assange and to push him to abandon our embassy."
Think your friends would be interested? Share this story!