#tommyrobinson
Police
CHARGE the 3
Hitchin
thugs
deport omar the plastic shankin gangsta fam, by Tommy Robinson

WE ALL HOPE YOU ARE SAFE AND GETTING THROUGH THIS UNPRECEDENTED TIME RIGHT NOW. YOUR COUNTRY NEEDS YOU NOW MORE THAN EVER. THEREFORE, IT IS WITH REGRET THAT WE HAVE TO BRING YOU NEWS OF THE MOST UNSAVOURY NATURE AT A TIME LIKE THIS....



THIS IS PROBABLY ONE OF THE MOST SHOCKING AND VILE ACTS YOU COULD IMAGINE DURING THESE TIMES OF CRISIS AND VULNERABILITY. AS THE DEADLY CORONAVIRUS SWEEPS THE GLOBE CLAIMING THE LIVES OF BOTH THE YOUNG AND OLD, IT PAINS ME TO KNOW THAT WE HAVE INDIVIDUALS IN EXISTENCE WHO BELIEVE THEY CAN ATTACK THE MOST VULNERABLE ELDERLY PEOPLE IN SOCIETY BY POTENTIALLY INFECTING THEM WITH THIS AWFUL VIRUS, AND FACE NO REPERCUSSIONS......

WELL THEY ARE WRONG!!!

WHAT YOU ARE ABOUT TO SEE WILL UPSET YOU, HOWEVER THE UPSIDE OF THIS SITUATION IS THAT FOLLOWING ACTION BEING TAKEN BY THE BRITISH PUBLIC STANDING IN SOLIDARITY, MEASURES HAVE BEEN TAKEN TO APPREHEND AND HOLD THE INDIVIDUALS TO ACCOUNT.

HOWEVER, WE WILL NOT STOP UNTIL COMPLETE JUSTICE IS OBTAINED, AND TO ACHIEVE THIS WE URGE YOU TO........

.
Dear friends,

Please click on the above to learn about the shocking attack witnessed by Tommy and to come together to eradicate the vile, evil, sick and twisted individuals from our streets by signing the petition at the bottom of the page.

The most frustrating thing about this is that without the actions and the will of the local community and support from the wider public, no action would have been taken against these disgusting individuals. So it is a true display of togetherness for the greater good!
TOGETHER WE STAND
Breaking News from Tommy Robinson on those 3 scumbags who spat, coughed and punched

pensioners
Glen Saffer 21 March 2020
From earlier: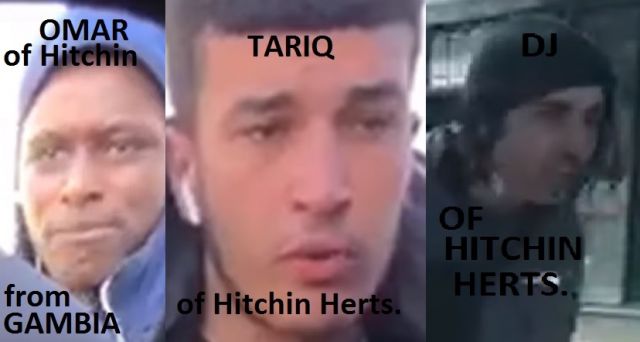 SHOCKING: WHO ARE THESE 3 LOUDMOUTH CRIMINALS ATTACKING THE ELDERLY IN HITCHIN HERTFORDSHIRE?
Tommy Robinson Stops Coronavirus Attack In The UK
Tommy Robinson saves old lady from thugs in Hitchin, Hertfordshire, UK